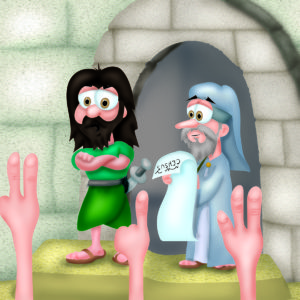 It has been quite some time since there was a census in the land. David decides to do a head count and runs into trouble over it.
I find it strange how this passage starts out. God is angry with Israel, again. I wonder what they were doing this time. Were they neglecting Him again? David was a godly king but he was not known for his powers of confrontation, especially with members of his own house. But would he have allowed the people to turn to idolatry? I feel like that is one place where he would definitely draw the line, although that is just my opinion. Something was wrong though.
We know there was trouble because of the next part. "He incited David against them" (verse 1b). This story is also told in 1 Chronicles 21. In that telling it says that "Satan rose up against Israel and incited David" (1 Chronicles 21:1a). I believe it is safe to say that God took His protective hand away and let Satan's words ring in David's ears. God DOES NOT tell us to sin and this was a sin, as we will see later on.
I'm curious as to why it was a sin. God speaks of taking a census in Exodus 30:11-16. He says that when the people are counted that they are to pay a ransom, each man, for his life. The rich and poor are to pay exactly the same and the money collected is to be used to maintain the Tent of Meeting.
The census purpose in Exodus appears to be to generate funds for the Tabernacle while David's census is a count of strength. One clue to this is who was charged with doing the count. In Moses' counts it was the priests and Moses who numbered the people. In David's count it was Joab, the commander of his army. Absent also is the census payment in David's instance. David was counting his 'resources' instead of honoring and redeeming the increase God had given.
Joab didn't want to do this job and he was quite vocal in telling David so. He knew it was wrong. Joab tells David so in 1 Chronicles 30:3b "Why should you bring guilt on Israel?" In 1 Chronicles 30:6b we see whee Joab refuses to count the tribes of Levi and Benjamin "because the king's command
was repulsive to him." I'm pretty sure that the difference in numbers reported in the two different accounts is a result of leaving out those two tribes. God's numbers are given in 1 Chronicles while Joab's are given in our reading today.
Even though Joab despised doing this job, he carried it out anyway. It took nine months and twenty days to complete this task. I wonder how many people it took to do this task. During this entire time David never once called Joab back. He was fully committed to this plan. He wanted to know the resources he could draw from.
I wonder if Joab was counting the Israel's enemies too. Several of the places where he went were not under Israel's control. Sidon, the fortresses of Tyre, all the cities of the Hivites and Canaanites were covered in this task. Did David compare the numbers and see how he stood in the face of opposition? That would probably have really angered God. All those years when He stood with David and made his few men MORE than enough to take on any large number, ignored because David took his eyes off of the Lord.
I have noticed in my own life that when I worry about 'having enough' and concentrate on the numbers in my bank account the balance falls a LOT quicker than when I concentrate on helping when help is needed and let God see to the bottom line. It is all about where I put my trust and my focus. It is also a LOT less stressful letting Him worry about it for me.
Father God, thank You for showing me something I can take for my life from this story. I don't know if I got David's motives exactly right but I know I saw my motives You wanted me to see. Help me keep my eyes where they belong, even when times get challenging. That's when I need to remember this lesson the most!