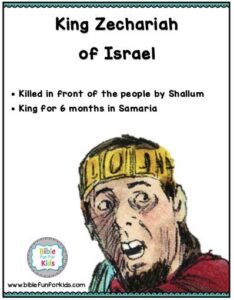 Zechariah is the last of Jehu's sons to reign in Israel. He does no better than his brothers in following the Lord. He lasts six months.
Israel has continued to worship the golden calves Jeroboam set up for them. Zechariah continues in that practice, as his father Jeroboam II also did. It would have made for interesting reading if the Jeroboams were 'book ends' for the calves but no such thing happened. Israel continued on in this sin. Her leaders were still afraid to call the people to worship God in His holy Temple. They feared they would lose control of their half of the kingdom.
Zechariah's reign was the final piece of the promise God made to Jehu. Jehu followed the Lord to an extent. He too worshiped the golden calves but he ridded the nation of the family of Ahab. For his zeal in this God made him a promise to let his sons rule to the fourth generation. Zechariah is that final generation.
God gave Zechariah six months on the throne. This was Zechariah's chance to follow the Lord and forsake the golden calves. Imagine what could have happened if he had changed the nation's heart! Israel might have been saved from the trouble they were marching into. Zechariah might have avoided assassination. But none of these possibilities came to pass. This king was just as power conscious as his predecessors.
In Zechariah's time Israel is lining up for a succession of kings. Conspiracy and murder will once again rule the days ahead. If only…
I wonder how many "If only…" times my life contains. "If only" I had listened more to my parents. "If only" I hadn't hung out with that group. "If only" I had yielded to the Spirit of the Lord BEFORE all the hard lessons. "If only" I had put my hand out to help that person when I saw them hurting.
But the other side of the "If only…" is the "Because…" I like those SO MUCH BETTER. "Because" I listened to the Spirit of God I had a chance to sow seeds into the lives of the children in my Sunday School classes. "Because" I refused to sit back and do nothing when my first marriage fell apart I have the skills to care for my husband today. "Because" I believed God gives me mercy and forgiveness I am not alone today but married to a man who stands with me in faith. "Because" Jesus lives I KNOW my tomorrows are secure in Him. And "because" I am His child I have a future beyond this world.
Zechariah was a beneficiary of God's "because" to Jehu but it ended with his own "if only…" DON'T let your story end with an "if only…" Make it a "because" one instead.
Father God, thank You for ALL the chances You have given me in my life. I know I have come away with a lot of "if only…" instances but I pray they are far outweighed by the "because" responses. Open my eyes to the opportunities You set in front of me. Let me trip on them if need be to finally see them. I don't want to pass up another opportunity to do Your will or to bless someone in Your name. Thank You for Your forgiveness for the times I missed those opportunities. Thank You even more that You have other ways to bless those that I have missed. You don't let Your children suffer because one of them wasn't paying attention. I may have missed out on a blessing but Your child in need won't "because" YOU care for them.
Thank You for answering my question of "what do You want me to learn today." I did NOT see this lesson coming when I read today's text. Thank You that You never fail to meet me "because" I came and asked.