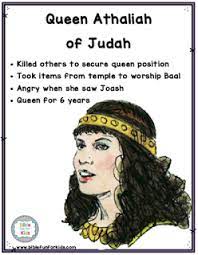 Judah is without a king because Jehu killed him. Ahaziah's mother, Athaliah, decides to take the job; by force! She kills everyone else who would be king and installs herself as queen.
Let me just start off by saying that this woman is wicked! She is power hungry and would do anything to get it. She sinks so low as to kill her own children and grandchildren. As a mother there is NOTHING you could give me that would even make me entertain the thought of doing this.
Athaliah was a daughter of Ahab and Jezebel. She learned her evil ways at the feet of her parents. I wonder if either of them would have been shocked at her behavior.
She is also stupid. I can tell you the names and ages of all my grandchildren. I may have to check on my calendar once in a while but I would not miss one, especially if I wanted to make sure all of them were included. This 'grandmother' didn't even realize that one of her grandchildren were missing from the stack of bodies she created. No, "Wait, where is the infant who was just born?" All Jehosheba had to do was hide the baby and his nurse in a bedroom. That would probably be the first place I would look for a missing child.
Athaliah apparently didn't think she had anything to worry about from her daughters. Jehosheba didn't hide herself from Athaliah. It never occurred to her that her daughter might put a kink in her plan.
I'm hoping we get to see more about Athaliah in Chronicles. Not because I have anything good to say about her but because I'm curious what kind of leader she was. Was she as ruthless with her reign as she was when securing the throne for herself? Did she care about the people? Did God use her in any way?
One wonderful thing that came from her actions is that the new king was raised all his life in the House of the Lord. He didn't learn from a father who chased after idols. Ahaziah walked in the ways of Ahab and his children learned from him. Joash, who was hidden away by Jehosheba wouldn't have that upbringing to overcome. Is it possible that God was hitting the 'reset button' with the line of David here? He used man's inhumanity to man to do a course correction in Judah.
Father God, I didn't even think about this until now. Thank You Holy Spirit for turning my eyes towards God's purpose. Father I don't believe that You make the evil in the world but You can certainly use it to Your advantage. Making stars from scars.
You also love us SO MUCH that You would pay ANY cost to restore us to Yourself. Jesus proved that by paying the ultimate cost for me. Thank You for NEVER giving up on me! Thank You for showing me Your fingerprints, even in the places where I would never expect to see them.