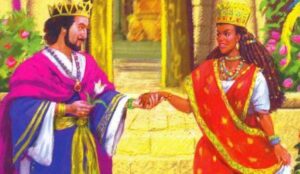 Stories of the wisdom of Solomon have spread far and wide. The queen of Sheba has to come check out the stories for herself. Not half has been told!
Solomon has been ruling in Israel for at least 20 years. During this time the stories of his wisdom have circulated far and wide. They have made it all the way to the country of Sheba. I am geographically challenged so don't ask me how far that is. I admit that I tried Googling it now. I didn't find the exact distance, as things have changed since then, but I found a Wikipedia site that mentions it taking THREE years for her to arrive. The same site said it usually took SEVEN years to make that journey. I would say it was a LONG trip either way. With further research I have come to question that. My research says she came from an Ethiopian kingdom of Saba. I haven't found Saba or Sheba on the map but Ethiopia is easy enough to locate. Travel distance (upon even further investigation) is over 1,500 miles. There are no oceans to cross and they occupy the same landmass, so I'm guessing that travel would have been no more than a couple of years. The wise men from the east took only two and a half years for their journey to meet Jesus. They came from opposite directions but are probably about equal distance.
Enough of that! Let's get on with our story. The stories of Solomon must have indeed been great to bring a queen all this way. Solomon was a king like no other. The wisdom God imparted to him changed the lives of all those around him and under him. I already mentioned the slavery he inflicted on the aliens in the land. This surely changed these peoples' lives! I wonder what they would say if asked if this change was for the better or not. When the queen of Sheba visited Solomon she commented on his servants and how well they were treated. Even their clothing impressed her. But these were the servants nearest the king, not those conscripted to work in the mines. Did she ask to see these places? If so, what did she see there? Were they as well off as the servants in Solomon's palace? Was their situation comparable to that of the rest of the people, in terms of food, shelter and clothing at least?
I'm wondering if she came more for her own questions to be answered or to prove out the stories truth. We are told she came with "hard questions" (verse 1b). Were these questions that had been burning in her heart for answers for some time? Were they questions designed to trick Solomon or put his wisdom to the test? Did they have actual bearing on her life? Or were they the hardest riddles anyone could come up with? I like to think they had meaning to her. Why make such a long journey if the questions were simply a test of him and nothing more? I believe her journey started with a need for an answer.
The story of Joseph and Pharaoh's dream springs to mind. He had a dream that he was CERTAIN was of great importance. He sought answers from those he expected to have them. He was so distressed by their inability to answer his question that it cost them their lives. God gave Joseph the interpretation when he was presented with the opportunity. I wonder if Pharaoh would have traveled a great distance if he knew there was one who probably held the answer for him in a far-away land. The woman with the issue of blood was willing to risk it all when she heard that there was Someone who had the answer she sought.
Let's join in the story today. We won't look at every night but I want to start at the source of the journey. For the sake of ease I'm going to give the queen the name she is given in Islamic legends; Bilquis.
♥ ♦ ♥
There is grave trouble in the land of Sheba. The crops are growing smaller every year. There is a blight that none seem to know how to cure. Bilquis at first knew nothing of this issue. Such matters are usually handled by those closest to the problem. But this blight is impacting even the queen's own table and household.
The people of the land are all suffering beyond even their lack of food. The crops that have survived are yielding grains that appear to be making the people ill as well. The kingdom is crying out to their queen to save them.
Bilquis has sent to all her neighbors seeking their advice and assistance. None have been able to help her. A few are also showing the early signs her kingdom suffered. Many are afraid to even come near Sheba for fear they will incur the wrath or whatever god is afflicting her.
One night a servant from the caravan stables on the edge of the kingdom overhears a conversation between two travelers. These travelers know each other well as they are leaders of their own caravans but they travel in different directions. They meet on the edge of Sheba as often as they can to share stories and swap exotic goods.
"I have a new story for you my friend" says the older of the pair.
"Tell it then" replies the other.
"While traveling in the land of Egypt we came across a caravan from the land of Israel. Those from that caravan told of the mighty works being done there by the hand of their king, Solomon. They spoke of the wonders he has wrought through wisdom imparted to him by his God. Stories you would not believe unless you saw them with your own eyes!"
"If they are so fanciful then they must be lies."
"I thought so myself at first but then I designed to see if they were true."
"And did you see if they were true?"
"They are indeed!"
"You have my attention. Tell me the stories."
"It is told that in Israel the king is so wise that his people lack for nothing. There is not a crop that cannot grow, indeed thrive, under his hand. He has harnessed the wind and water making them do his bidding. He designs cities that are impenetrable to any enemy. And his palace is made of pure gold."
"Surely no one should believe such stories. A palace made of pure gold! Utter nonsense."
"Perhaps there is some exaggeration in the stories but I have seen the crops and the cities myself. Fields of grain that are as white as snow and stand taller than any man. Water that flows exactly where he wishes it to without the need of buckets. It is said he can even make water run uphill if he so desires! And the cities! O the grandeur and design. He even has cities designed specifically for his chariots, ensuring the layout is perfect for employing them into battle at a moment's notice while still meeting the needs of the inhabitants."
"How could anyone make water run uphill?"
"I have seen it myself! A field watered without use of buckets. The stream which flows nearby is lifted by a wheel into troughs and propelled along their length to feed the plants grown there."
The servant of the caravan station has been listening in with rapt attention since the subject of crops was mentioned. Maybe this king could help his people. The servant is called away to tend to other duties while the men continue their visit. His head is not on his tasks though for he is busy planning how to bring news of this to his queen. Surely she could speak to this king and gain the knowledge necessary to save his people.
Knowing he is but a simple servant he knows none would listen to him, much let him near the queen. The man who has seen these things himself must be the one to tell the queen. Surely she would believe one who has seen such wonders326 himself. But how can he convince the man to take his stories to the queen?
Thinking through his options the only one he can come up with is to offer the man his services for life in exchange for him bring his news to the queen. He is the nephew of the man who owns the stand and is in training to one day take on the task himself. He is willing to forego this future in order to bring this news to the queen. It would likely mean a life of indebtedness but he counts it worth the price if it will save his people.
That night the servant makes sure to give the younger caravan owner's camels extra food and water, within sight of his servants. He wants to be seen doing well before making his offer. Before retiring for the night he also stops by the chambers where the caravan leader is sleeping and cleans his shoes that sit outside his door.
Even before sunrise the servant is up and preparing a special meal for the caravan leader. He MUST gain the favor of the man right away for he is scheduled to leave this morning. When the leader arises from his bed and steps from his room he finds the servant bowed before him.
"What is the meaning of this" asks the caravan leader with a trace of suspicion in his voice.
"I, your humble servant, seek to please you with this offering I bring." The servant pushes forward the tray laid out with delicious foods.
"Why do you wish to please me" he asks with more suspicion creeping into his voice.
"I wish to offer myself as your servant and travel with you in your journeys" replies the servant while barely lifting his head.
"I have all the servants I need. What would you offer me that I don't already have?"
"I can do sums, I know how to talk with people to learn their needs, I have been caring for animals all my life… I would offer you my life."
"And what would this cost me? No man sells his life without a price."
"You are a wise man. Yes I do have a price. One that will cost you very little."
The caravan owner crossed his arms and waited. He could see that the young man was struggling to get something out.
After what felt like an eternity of silence the servant continued with his request.
"The price I am asking is that you would share your stories of the king of Israel with my king. My people are in need and if she heard your stories she might learn where to turn."
The caravan owner is stunned at the servant's price.
"You would sell yourself for stories I give freely?"
The servant nods his head while ensuring he kept his eyes on the ground.
"I would know the name of the man who sells himself so freely for his people."
"My name is Meshiq. Do you find my price agreeable?"
"Your price is indeed within my means but I do not agree to your offer. I will not purchase you."
Tears gather in Meshiq's eyes. He has nothing else to offer the caravan owner.
"I will however do as you have requested and share my stories with your queen IF she will hear me."
Forgetting his station in life, Meshiq jumps up and reaches out to embrace the caravan owner. Just before making contact he restrains himself. Instead he offers his verbal praise instead.
"May the gods smile upon you and bless ALL your journeys."
The caravan owner smiled at Meshiq's blessing.
"I will require an introduction to the guards of the queen before I may tell her my stories. Do you know anyone who could provide such a service?"
"My uncle would probably be able to this task. He has inlets into many different areas of influence. I will speak to him of this need."
"We will go to him together and see what he can do."
Together Messhiq and the caravan owner go in search of his uncle. They find him talking with the other caravan owner who was in the conversation last night. As the two approach, they notice that the conversation of the two men is centered on the stories Meshiq found so intriguing.
"I wondered how long it would take before you shared my stories" says the younger caravan owner with laughter in his voice.
"Stories this good are meant to be shared are they not?"
"Indeed they are my brother. This young man has requested that I share them with his queen. ME before royalty! Can you imagine?"
"You will need a good bath first" teases his friend. Changing to a serious tone of voice he continues. "From what our host has been sharing with me, I believe they would welcome your tale."
"I have agreed to share them but I would need an introduction. I must get past the guards before standing to speak with the king."
"I believe I can help you there" offers the stand owner. "My cousin has a son who is in the queen's guard. I can introduce you to him. If your stories are all that your friend here says they are, he will certainly stand you before the queen."
"They are my friend, and more."
The men went into planning mode and before the hour was up Meshiq found himself making his way to the garrison where his cousin was stationed. His task was to prepare his cousin for the men who would follow. All three of them would stand before the queen lending support for one another's character and veracity of the story.
Meshiq reached his cousin by midday. The two exchanged greetings and Meshiq immediately launched into his reason for coming.
"While in the caravan stand last night I overheard two leaders exchanging stories. One told of a king in Israel who is so wise he is even able to harness the wind and water…"
"No one can harness the wind and water" interrupted his cousin.
"…He is said to possess wisdom from his God that allows him to do many great things. The younger of the two leaders claims that he has seen the marvels of this king with his own eyes. It is our sincere hope that he can bring his stories to the queen. If she believes them she may seek out this king and ask his help for our people."
"What makes you so certain you can believe him?"
"He is an honorable man who has passed through our stand many times. I have never known him to tell a falsehood. And I know he deals well with his servants. They have spoken of this to one another in my hearing. Besides all this, our uncle trusts him as well as the other leaders. They are on their way here now to ask for audience with the queen. I ran ahead to prepare you and ask you to intercede with your captain on our uncle's behalf."
"If for no other reason than that our uncle trusts this man, I will see what I can do. He is not an easy man to convince. No one would take him for a fool."
By the time the three men arrived at the capital city word had already made it through the ranks and the captain of the guard was anticipating their arrival. Meshiq and his cousin stood with him to greet the men so the captain would not be fooled by imposters.
"I hear you have stories you wish to share with our queen" said the captain as the men stood before him.
"We do indeed. I am Felalli, owner of the caravan stand on the eastern border for Sheba. These men are my frequent guests. This is Achmen, he is the one with the stories our queen needs to hear and the other is Samhan. Sanhan is a long-time acquaintance of Achmen and can attest to his character."
"The queen has heard of your journey and commanded that you be brought to her as soon as you arrive."
The three men look at one another in amazement. They never expected to be ushered right into the presence of the queen. The captain sees their bewilderment and laughs.
"Young Mishiq has been very helpful in sharing some of the stories you come bearing. ALL are interested to hear of a king who may yet save the people of Sheba."
Within minutes the contingent of those bringing hope to Sheba stand before Bilquis; the queen.
"Speak of this great king you have both heard of and seen."
Achmen begins telling the same stories he shared in the caravan stand. He makes sure to stress the size and health of the crops he personally saw and the watering system that defied anything he had ever known.
Bilquis sat quietly as he completed every story he knew, including a few he admitted that he too was uncertain of their accuracy. He surmised that the more information she had the better before making a decision as to how to proceed.
When Achmen finally fell silent Bilquis questioned both Samhan and Felalli regarding Achmen's character. Both men were honest and forthright with the queen. They told of his honesty and his character. They shared how he treated his servants and of their obvious respect for him. They also told that he has been known to drink a little too much wine on occasions. This last was offered to make their testimony balanced and to not portray Achmen as more than he truly was; a man just like any other.
Bilquis listened carefully to all that was said before speaking again.
"Your stories seem beyond belief, especially of a man harnessing the wind and water. But the testimony of those who know you lends credit to your claims to have truly seen these things yourself. I must think this over and decide what to do with your tales. My gratitude to you for bringing such things to my attention."
The men bowed deeply and left the queen's presence. Once outside they began to wonder if she would act on the stories they brought her.
"She is a cautious one and not easily swayed. We have done all we can. The decision to believe is hers alone" said Felalli.
"I need to return to my caravan. I am already behind in my schedule" said Samhan. "Are you coming with me my friend?"
"No. I feel the need to wait here a little longer and see what becomes of my stories" replied Achmen.
Samhan parts ways with the others and resumes his journey. Achmen, Felalli and Meshiq find an eating establishment where they can purchase meals for the evening. None want to leave the capital city until they know of the queen's decision. This is after all, the very thing Meshiq was willing to sell himself into slavery for.
Conversation during the meal is sparse as each member is contemplating the events of the day. By the time they conclude their meal they notice increased activity in the town square. They quickly leave the establishment where they spot Meshiq's cousin at the stand of a merchant. He is purchasing large quantities of meat. Once his transaction is concluded the four men join him.
"Is something happening" asks Meahiq.
"The queen has decided to travel to Israel in search of this King Solomon. It is her sincerest hope that he can help our people. We are preparing to leave as soon as possible."
"Is there anything we can do?"
"I am pleased you have offered as she has assigned me the task of finding a guide for her who knows the roads we must travel. Achmen, would you consent to be that guide? I ask for your assistance being you are not subject to our queen."
"I would be honored indeed to fill such a role for your queen. I have camels and servants too that I would lend for her travels."
"You will be paid handsomely for your services. Be ready to leave by morning. We will travel to the caravan stand this night and meet you there. We will depart at first light. Uncle, you will probably want to hurry home and arrange accommodations for the queen as well."
The three visitors from the caravan stand snapped to attention at these words. They quickly said farewell and each rushed off to their new duties. Meshiq, though he was the youngest, had trouble keeping up with the pace his uncle and Achmen set. There was excitement in their steps which kept them at a steady trot all the way back to the caravan stand.
With all the preparation the queen's caravan did not leave as early as she had hoped and they ended up traveling long into the night. She was physically comfortable in her coach even if she was unable to rest due to the hope she felt surging within her bosom.
Ready at the queen's command was Achmen and his caravan the next morning. He was fortunate that he was at the end of his caravan route and the cities he had planned to visit next were on the same route he would be taking with the queen of Sheba.
The journey was exceedingly long for all involved. Achmen knew all the best stops along the way for refreshing of both animals and travelers. The queen's guards pitched a tent for her alone and guarded it through each night. On very rare occasions she was seen among the people when the caravan stopped. When they passed near a royal city she was always invited to dine with the host dignitaries. Always the talk turned to the stories of King Solomon. As they came closer to Israel the stories got more and more detailed. Many of them were still beyond belief but their consistency increased Bilquis' hope.
Achmen reined his camel over to the one carrying the captain of the queen's guard.
"Just over that hill is the border of the land of Israel. We will follow that mountain range north to reach their capital city of Jerusalem. Should I send word ahead of the coming of the queen?"
"If Jerusalem has not heard of her impending visit by now it would be very surprising indeed. We have made no secret of our intended destination and we have met MANY travelers along the way. Surely word has reached them that we come seeking audience."
"Of this I have no doubt. I was intending to send word of when they might expect us."
"Best not to so that we may see the truth of how they live instead of some contrived version they put forth for visiting dignitaries."
"I bow to your wisdom."
Three days later the caravan arrived at the gates of Jerusalem. Without being advised of the queen's itinerary Solomon was on hand with his royal guards to greet them at the gate. Once their progress was halted, Solomon's royal captain stepped forth.
"Welcome to Jerusalem, the city of David, where the Lord God of Heaven has put his name and where his servant Solomon reigns."
Bilquis captain offered her formal gratitude.
"The queen of Sheba offers her thanks for such a warm and unexpected welcome. We come in search of the wisdom the God of Solomon has imparted to him."
Solomon stepped to the front of his guards and looked to the coach where the queen waited. Reaching out his hand he offered his own greeting.
"I am Solomon, king of Israel, and I freely offer you whatever wisdom my God will allow."
Bilquis beckoned her guard over to assist her to the ground. Then she too stepped before her men to greet Solomon.
"I am Bilquis, queen of Sheba. I have heard much of the wisdom your God has given you. I pray that His wisdom will also benefit my people for we are in need of wisdom beyond that of mere men."
Solomon extended his arm for Bilquis and she laid her hand atop his arm to allow him to escort her into the city. Guards from both kingdoms accompanied the pair as they made their way back to the palace.
Bilquis took in all the sights around her as they passed through the city. The city was very clean, the people appeared content, and there was brisk business being done in the city center. As Solomon had met her at the gate she wondered if the scene might be contrived just to impress her.
Solomon watched Bilquis out of the corner of his eye as she took in the sights. He seemed to know her thoughts even without her voicing them. He wanted to put her fears to rest but knew the best way to do that was to allow her to observe the truth on her own. Him telling her would be far less convincing than her discovering it herself. He had surmised the time of her arrival from the stories that had filtered in but he had not prepared the city. What lay before her was the work of the hand of the Lord and His blessings on the people, with a bit of Solomon's help in designing ways to keep the city running efficiently.
Solomon escorted Bilquis into his palace through the Hall of Pillars. He would not take her through the Temple gates as she was not and Israelite. Once in the court of Solomon she was introduced to several of Solomon's wives. She was given a warm welcome by all. Pharaoh's daughter, Solomon's chief wife, escorted her into her own home where Bilquis was given the opportunity to refresh herself.
"I know you must be tired after such a long journey. One can only do so much with a basin while traveling. Enjoy some of the luxuries my husband the king has provided for me."
"You are most kind. I am most grateful for your hospitality. I must send my captain to see to the needs of my people before in indulge my needs though."
"Of course. Know that my servants are at your disposal and will prepare a place for you and your female servants. My husband the king will see to the needs of your men, if you like."
"That would be most welcome indeed!"
Pharaoh's daughter and Bilquis returned to where Solomon was seated. He was in discussion with Bilquis' captain.
"My king, Bilquis cannot rest until she knows that her people's needs are met."
"I was just seeing to that myself. I have offered one wing in the garrison to her captain. My men will see that it is vacated and ready for their use. As for her camels, they are welcome in the fields beyond the gates. I will post keepers to tend to them. Her personal guards will be offered quarters in the east wing here in the palace. I assume you have already offered accommodations for her female staff?"
"Yes my lord, I have made arrangements for them. Their quarters are being prepared as we speak."
"You will of course be our guests at dinner at sunset. Would you be agreeable to meeting in the morning to discuss the reason for your long journey" Solomon asked.
"I am most grateful for your hospitality and an opportunity to rest. I look forward to sharing the evening meal with you and discussing my concerns in the morning. My questions can wait until then. I would however like to present you with some of the gifts I have brought from my country."
Solomon smiled. "I look forward to seeing what you have treasured enough to carry this long distance to honor me. But if I may, I would like 'sing for my supper' as it were. To earn the gifts of your hand by supplying you with the knowledge you seek in exchange. As I am still a stranger to you and have not yet proven my worth, let me change that relationship and then I will accept any honor you choose to bestow upon me."
"I already see that you God has indeed provides you with wisdom. I will agree to your request if you will but promise to allow my servants to prepare a meal for you tomorrow night, using the spices we have brought. I believe you will be most pleased with what we have to offer."
"That would be a most welcome treat. I will see to it that your servants have all they require. My kitchen will be at their disposal."
With the early accommodations settled Bilquis allows Pharaoh's daughter to lead her to a room where she can bathe. Bilquis servants have already been summoned with fresh clothing for her once she is refreshed.
The room itself is a wonder to Bilquis. It has pipes that deliver the water from a large basin where it is heated into a basin large enough to fit ones entire body in comfort. The room is also warmed by the fire for heating the water. Bilquis' own routine takes six or more servants carrying water from the oven in the kitchen to pour over her as she washes while standing in a basin to catch the water as it runs off her body. That basin is emptied several times during the process to ensure it can be lifted by the servants. Bilquis sees no jars in the room large enough to hold water, nor a window to toss out the used water. Bilquis also has no idea how the large basin could possibly be emptied by the servants. But she puts herself in the hands of Solomon's wife and follows her instructions.
"There is nothing like this in all the world. My husband designed and built it especially for me. I call it a bathing tub. When it is filled with water you simply enter into it, sit, and enjoy the heat of the water as it washes away the tension of your day. Adding a little fragrance to the water is especially refreshing."
Bilquis does as bidden and finds herself so relaxed by the soothing heat that she nearly dozes off. With reluctance she emerges from the bathing tub and dresses for the evening meal. As she is dressing she notices two of Bilquis' servant girls tending to the bathing tub. They roll back a section of rug, raise a trap door, pull two pins embedded into the wall and lean onto one edge of the bathing tub. It tips and begins pouring its content through the open floor space. The servants slowly tip the bathing tub further up until at last all the water has flown through the opening in the floor. Then they replace the bathing tub in its original position, replace the pins, close the opening in the floor and return the rug to its place. Never in her life has Bilquis seen its like!
Dinner is a feast fit for a king, or queen! The entire table is covered in delicious dishes. Some Bilquis is familiar with and others are foreign to her. She samples them all in small bites. She does not want to appear gluttonous to her hosts but she could easily lose herself among all the wonderful tastes. Talk is light and focuses mainly on the foods being served. Solomon seems intent to wait until morning to address Bilquis reasons for her journey. It is taking all her restraint not to pepper him with questions about the bathing room's design. She hopes there will be an opportunity to discuss it with him without it being an immodest topic.
After a sumptuous meal all members retire to their chambers for the night. Bilquis spends most of the night organizing her thoughts, again, for her meeting with Solomon in the morning. At first light she rises and prepares for the day. She is alerted to sounds of singing and the aroma of meat cooking. She quietly slips from her chambers to trace its source. The sound and aroma seemed to be coming from the structure at the top of the stairs in the courtyard. Bilquis had not toured this structure with Solomon. For some reason she felt he didn't want her presence there. She made her way up the stairs until she could see what was going on up above. Solomon stood at the foot of an altar that was raised up even higher. Musicians and singers were stationed on either side of a ramp that rose to its height. Atop this altar, smoke rose up towards the heavens.
Bilquis surmised that this was a Temple to his God and she was intruding on his ritual sacrifice. She watched for just a moment longer then made her way back down the stairs.
Solomon was deep in thought when Bilquis made her way up the stairs. He heard her approaching but kept his focus on the Lord. He hoped she would not enter the courtyard of the Lord and was much relieved when he heard her steps retreating back down to his palace. He would explain what he was doing, later. For now it was the Lord's time.
When Solomon had finished with the morning sacrifice he came back down to his courtyard. The servants had laid a table already with foods to break the fast of the night.
"Please help yourself to something to eat. I need to change and then we can begin our discussion."
Solomon disappeared inside his home to remove the outer garments he wore each morning and evening for the prescribed sacrifices. He emerged a short time later to find Bilquis nibbling on a piece of fruit.
"Would you prefer to talk here or should we move to the throne room" asked Solomon.
"This is a beautiful setting but I would be interested to see your throne room."
"Then to the throne room we shall go."
Solomon motioned to the guards that had been standing as chaperone to join them as they made their way to the throne room. Bilquis took a moment to look around once they entered. There were elaborate carvings everywhere. Solomon's throne sat at the pinnacle of the room with stairs leading up to it. The room could easily hold hundreds of guests at any time and still not feel crowded. The smell of the wood permeated the air like a perfume. Ornate candle sticks protruded from sockets in the wall on three sides evenly along perimeter. High openings in the walls allowed for air flow and added light. This was truly a magnificent work of art and architecture.
Solomon took his throne and offered a seat to Bilquis near his.
"Now, why have you journeyed so far? What questions do you bring that I may assist you with the wisdom of my God?"
"I have many questions but the one of greatest concern deals with the future of my people. Without an answer I feel we may all perish."
Solomon gave her his full attention. "Speak and I will answer as my God allows."
(to be continued)
♥ ♦ ♥
For time sake I have to end here for the night. We will pick back up where we left off the next time we meet (tomorrow). I debated with writing the story of our reading this way but when I started thinking about the questions the queen of Sheba brought to Solomon I couldn't let it go. The story sprang to life and had to be told this way. I look forward to seeing where it goes in the end. I already have quite a bit more written but had to find an appropriate place to end for the night. Please join me tomorrow for part two.
Father God, thank You for sharing Your stories with me. Thank You for bring them to life in my heart and mind. I pray that I NEVER dishonor You with any story I write. Keep this one fresh in my heart and mind so that I can continue in Your Spirit to the end of it.
One quick note: the "bathing tub" that I described was taken from the ideas that King Ludwig incorporated into Neuschwanstein, the castle he built in Bavaria. It had MANY inventions that were ahead of the times and one of them was indoor plumbing. I figured that since God gave Solomon wisdom beyond that of regular man, he may have given him some of the same ideas King Ludwig was called crazy for. I personally saw his shaving basin that tipped into tubes below the castle that carried the water away. I don't know if he had a bath tub but I know the basics of how the basin worked and created my own story from there.