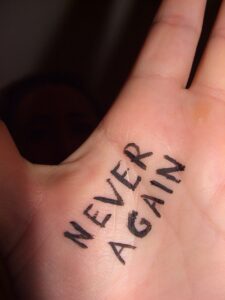 God's final answer/challenge for Job will put the exclamation point on Job's lesson. Job will vow to 'never do that again', and MEAN IT.
When reading through our passage earlier there was one verse that, when I read it, I laughed out loud. "Lay your hands on him; remember the battle – you will not do it again!" (verse 41:8).
God is describing man trying to tame a "Leviathan"; one of God's first and biggest creatures. After trying it ONCE a man would SURELY learn his lesson. God uses this to demonstrate that the same can be said for Job and his trying to argue his own righteousness before Him. Once tried, "you will not do it again!"
Job didn't just shut his mouth or fall down and repent when God admonished him the first time. Like a teenager, he wanted to have the last word. "I have spoken once, and I will not answer; twice but I will proceed no further" (verse 40:5).
This wasn't a wholly rebellious answer because Job said he wouldn't take up the argument again but he had to get that last statement in there. "You know what I've already said. I'm not going to argue any farther; but neither am I taking it back."
I can see the anger in God's eyes flash at this statement. Instead of God making Job a greasy spot on the ground though, He answers him again. "IF you can do the things that I do, 'THEN will I acknowledge to you that your own right hand can save you' (verse 40:14)." Because HE is God and Job is NOT. And neither are any of us!
Job's mouth should be firmly shut by now. No more boasting about himself and his own righteousness. I see his mouth being firmly closed by now. No, he cannot compete with God. He can't even compete with God's creation, the Leviathan. How could he possibly hope to stand toe to toe against the Lord?
This was a hard lesson learned by Job. He truly believed himself completely righteous. If he had seen (or heard) God hold him up as the 'gold standard' it would have been an even harder lesson to take. But God was using Satan when He made that statement, just as He used him to accomplish the work of Jesus. God will do whatever it takes to bring us to Himself.
We will see what Job takes from his lesson tomorrow. I have NO DOUBT he completely shut his mouth this time, except to repent of his sins.
Father God, thank You for loving me enough to 'move heaven and earth' to get my attention. And to bring me the lessons I need in my life. NO! I won't even pretend to call myself righteous outside of Jesus' works. And I will NEVER argue with You over the results of my lessons. NO 'I HATE YOU' coming from this child because things didn't go MY way; at least not any more. THANK YOU for bringing me through that lesson already!
Help me with my patients during our current project and also help the people we have chosen to be reliable. I KNOW I can't do it all myself. I trust You to bring the help we need for the job.