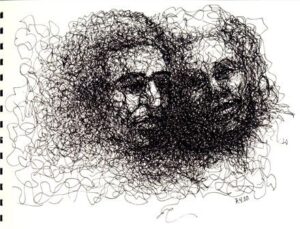 We continue with genealogy. From Jacob to David is covered today in our reading. NO WAY to make this one inclusive of every branch!
If you are anything like me, your eyes are welling up and your mouth is turning down as you look at name after Name after NAME in our reading. I can hear a 'Wilma Flinstone' wail coming up within me. BUT God said ALL scripture is important for our spiritual growth, so here we go (she types reluctantly).
We noticed last time that God was holding the line of promise until last in each group of genealogy. He held Jacob/Israel until today, chapter 2. Right out of the gate we get "Israel" contribution to the nation.
Did you notice that in our last reading God didn't give Israel's given name at birth when listing him as Isaac's son. He called him by the name HE gave him instead. God continues with that practice in today's reading. He wants to make SURE we know who He is talking about and that we associate the name of the man with the name of the nation. So we are going to dispense with the name "Jacob" too, for now.
Israel's twelve sons are listed for us. They don't appear to be listed in order of birth because Naphtali, Gad and Asher come after Benjamin in this list. Are they grouped by mother instead? That can't be because the mother of Dan is also the mother of Naphtali; Bilah. This list puts Dan prior to Joseph and Benjamin. Gad and Asher's mother was Zilpah and they are at least listed together. Dan is my outlier for the 'by mother' list theory.
The recounting jumps immediately to Judah after we pass Israel. Judah is the line of promise for Jesus but he is the line of David first. Did you notice how the story of Judah's first three sons and his history with Tamar are glossed over? I would call this an 'iceberg' rendition of the story.
I find it strange to get a list of both Judah's sons by Tamar's genealogy, short as it may turn out to be. I'm curious who Carmi is. How does this person fit in? Is this possibly a woman, the mother of Ethan's son? If so where does Achan fit in?
After Ethan's son Azariah we back up to Perez's line at Hezron. Once his sons are listed we get back to the way I'm used to seeing genealogy; following father to son in a straight line to the 'intended target', or close to it anyway. At Jesse the branches begin to flesh out again.
We back up twice and run down Hezron's other two sons. I was VERY confused by the name Caleb because I didn't see it in the list of sons born to Hezron. My bible helps says that Caleb is a form of the name Chelubai. I figured that was probably so because we are told that Caleb is the brother of Jerahmeel and his name is certainly listed in the sons of Hezron.
I find Caleb's actions both surprising and offensive. After his father's death, he slept with his father's latest wife and had a son with her. So Judah's sons by Tamar are not the only convoluted relations in this line.
I'm curious why the mega detailed lines of Caleb and Jerahmeel. Are some of these men going to be important as we move through Chronicles? Was the earthly author from one of these lines and wanted them included? I don't know and my head is spinning with all these names! What I can say for sure is that the tribe of Judah was growing strong by the time it reached David. We even get to see David's cousins who were with him in battle from this list. At least that part is easy enough for me to follow and ties things together for me.
Father God, we are SO FAR from finished with genealogy in this portion of Your word. Carry me through it please! I'm all mixed up and don't know which way is up. Show me what I need from these lists. Keep me on track with You Spirit and let everything else wash over me. THANK YOU that there isn't a test on this waiting for me. I have enough trouble keeping my family genealogy straight! But I love every one of them in my tree, even the ones on the 'lower limbs' that got there long before me.