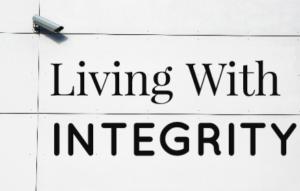 David calls on the Lord to vindicate him because he has walked in integrity. Not every minute of his life but as a whole. This is how God called for His people to live.
I have a nasty habit of holding onto my own faults. It is easier for me to forgive others than it is to forgive myself. When reading this psalm the first time I used that same habit when remembering David's sins. I wanted to say, "But what about Bathsheba?", or "What about Joab. He wasn't the best man to hang with." There were several "but what about's" running around in my head as I read. Then the Holy Spirit reminded me of something even MORE important. He reminded me of God's forgiveness.
David's voice in this psalm tells me he didn't suffer from my same fault. He holds fast to his forgiveness. In his life we know he failed to meet God's standards on several occasions. But his life as a whole was God centered and he returned to that center after asking for forgiveness EACH time he failed. That is why he can sing this psalm to the Lord.
David followed wherever the Spirit of God led him while evading Saul. MANY of David's battles were absolute miracles because he fought in the name of the Lord. David refused to put out his hand against Saul because he respected God's choice for Saul as king of Israel. It didn't matter that Saul was out to kill him; David wouldn't strike back with intent to harm. David's greatest desire was to build a House for the Lord. He wanted to honor God with all his heart and to be in His presence as often as possible. David praised with abandon and didn't care who was watching. Truly David was a man after God's own heart.
So what did I learn from this psalm? 1) Stop holding onto my old sins. BECAUSE God forgave me, I need to do likewise. 2) Don't bring up the sins of others in my heart. It is theirs to deal with between themselves and God. 3) Whenever in doubt, bring it to the Lord. He knows who I should and shouldn't be associating with. He can speak to me in my spirit and lead me away from danger. 4) Keep Him my center in everything. With Him as my center I'm quick to notice and repent of my sins, letting me also walk in integrity.
Father God, I am NOT perfect. I make plenty of mistakes and fall into sin FAR too often. But You have NEVER abandoned me there. You always call out to me and draw me back to You. And You clean me up! I HAVE to stop wondering how good a job You did and accept the fact that Jesus did it ALL. Help me learn to forgive myself and others that I know have had a large fall.
You certainly vindicated David in my eyes today Lord. I guess You answered his prayer CENTURIES later too.