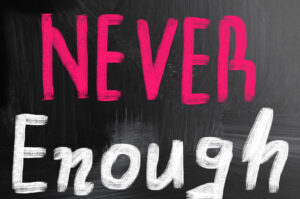 We see three things that "are never satisfied; four never say, 'Enough'". The three things have a longing that can't be filled. The fourth without bounds, devours.
First of all, thank you for letting me take a day off a couple days ago. I got so busy with projects and people that my day was gone in a blink. Also, thank you for going with me yesterday in a different direction; free writing. I was feeling distant from Easter, Resurrection Sunday. This was how the Spirit drew me back in. I find it hard sometimes to continue on our regular scheduled journey during holiday observance time. I'm torn between stepping away from our progression through God's word and delving into the season. The Holy Spirit let me do both this year and I'm grateful.
Now, on to our walk through Proverbs. Our author, Agur, starts presenting us with 'lists' he has compiled. The first one we encounter is one focused on "never satisfied" or "never enough." The things he has picked are interesting and heart breaking. Let's walk among them, pick them up, and see what they have to say to us.
The first thing we encounter isn't included in the list but it represents the others quite well; the leech. The leech can only survive when it is draining the blood of another. In this process, it injects its 'host' with an anticoagulant that stops the host's blood from clotting. It therefore constantly says, 'give' and forces it to happen. There are people like this too. Those who are always searching for someone else to meet their needs. When they find someone they can 'harness' it takes A LOT to get them to turn loose. Leeches do NOT let go on their own. They have to be forced to release their hold. And the host cannot truly heal until the leech is gone and its toxins are out of the host's blood.
Next, we bump up against the ONE place NO ONE wants to go; Sheol, Hell. I've heard some say they want to go but if they really knew what waits there they would RUN the other way! Sheol is a place that is completely cut off from God's presence. It is a place of utter torment without end. And Satan is never satisfied with the number of inhabitants he has slated for there. His first attempt at corrupting man and getting him to join him in eternal punishment worked quite well. He tricked Eve and Adam came along for the ride. From this moment, man has been born into sin and Satan fights tooth and nail to keep EVERY soul he can. He ALWAYS wants more. If all men actually realized that this is their destination without Jesus, Sheol would lose a LOT of inhabitants. But man doesn't believe it. He is too sure he can control his own destiny. And that's another trick Satan uses to fill his 'home'.
The next thing that is never satisfied breaks my heart. I have never had to live with the longing for a child to grow within my womb. God has blessed me with four children. I had a miscarriage between my first and second children and that loss was only a small taste of the heartache faced by many women throughout history. A few that come to mind are Rachel, Hanna, Sarah, and Elizabeth. Each of these had that longing filled eventually but others who remain nameless didn't. I know, without a doubt, that there have been women throughout time that have begged, pleaded, and done anything they thought could help to relieve their longing. Sarah and Elizabeth had given up on ever having children. They had resigned their quest and accepted, with sorrow, the emptiness they believed they would always face.
I don't know why God allows some wombs to be shut and why He blesses the womb of others. Some who have children honestly don't deserve the precious lives they have been entrusted with. And some who are left longing, would be wonderful mothers, given the chance. But I'm not God. I can't make it happen for anyone. What I can do is recognize the anguish of the unfulfilled longing. I honestly don't know if that longing ever goes away for the woman who is barren. How does she comfort her heart? How do I, if I am her friend? I have no words to end her suffering. All I can do is offer to add my prayer to hers.
The third thing on our list is one that affects MANY people at the same time. A land parched of rain cannot sustain its people. It's not just the land longing to be bathed again in rain but all those who call her their home. The land is forced to continue giving of what she has while being denied replenishment. It reminds me of a mother who is starving to death, trying to provide nourishment to her infant through her milk. ALL that she has is spent. There is nothing more to draw from. If things continue on as they have been, both will die. There is only so much one can give before blowing away in the wind yourself.
The last thing on Agur's list is fire. Fire is a useful tool, but left unchecked, it will devour anything in its path. We have use fire for light, to heat our homes, to cook our food, and even to keep predators at bay. These fires had the same characteristic of a consuming fire, but they were kept within the bounds of their service. A wildfire takes on a life of its own. It rages and races its way in every direction. If it were not for the efforts of man to bring it under control, it would continue to devour everything in its path. It is NEVER satisfied with what it has. It wants MORE! And it will resume its search for more unless it is completely wiped out.
When I was first reading this section, I was thinking of positive things that "never say, enough." What came to my mind is that I can never get enough understanding of God's word. I want SO MUCH MORE! I know I have only scratched the surface. But I don't think I'm supposed to learn EVERYTHING there is to His word. If I knew it all, I would have no reason to keep on searching. Even in all my searching though, God doesn't leave me unsatisfied. He fills my current hunger and promises that if I return again, He will do the same. I don't have all I want but I have enough for a time. I am satisfied.
There are other places in our lives where we have to learn to say, "Enough!" and be satisfied. Always striving for just a little more wealth, or for one more accolade leaves you empty. We need to learn to enjoy what we have and be satisfied. Not for forever, or we would have no desire to grow, but for a time learn to embrace what is before us. Focus on the 'needs' that you can fill and let the process of meeting those needs fill you in return. Use what God has given you now to help others and He will deal with refilling what you have poured out in a way that fills your needs too.
Father God, thank You for my children. Thank You for filling the desire in me to be a mother. I pray for the women out there who are still waiting with longing for this desire to be fulfilled. Fill their hearts Father; if not their wombs. Give them the opportunity to pour into others as You pour back into them.
For those who are living in lands parched and dry, sustain them. Give them Your Living Water so their spirit will thirst no more. Bring new life to their lands with rain. Revive their land and their hearts.
For those who refuse to believe Hell really exists, I don't know how to reach them Father. They WILL learn the truth eventually. I pray that my children and grandchildren learn the lesson LONG before they would find out in person! Draw them away from the fire!
Thank You for Your Fire Father. Your Holy Spirit who works in my life. The Fire that knows the bounds You have placed within me. The Fire that warms me and helps me grow. Let Your Fire consume ALL that is not of You in my life. And don't let me 'burn' others by forcing my Fire on their dry grass. Let it grow naturally to where they feel the warmth of Your Spirit and seek His presence for their lives too.