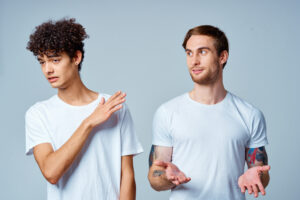 The words of a father to his child are turn away from those who would do evil. Their schemes result in their own destruction. Have nothing to do with them!
The examples given of the enticement to sin are so blatant that I don't see how anyone would fall for them. "Come with us, let us lie in wait for blood; let us ambush the innocent without reason" (verse 11). Only a desperate soul would consent to this obviously evil scheme.
I find that such schemes of evil are usually a bit more subtle. "No one will notice if you take this. There are plenty more. And besides, don't you deserve nice things too? Who will it really hurt?" "Some people deserve to die. Just look how they treat others!" A scene from the movie Little Shop of Horrors pops into my mind: "The guy sure looks like plant food to me!"
This is more like the messages I would expect myself and others to fall prey to. Even Seymour can't resist the pull. It took the offer of something he really desired to win him over though. His tipping point wasn't necessarily the fame and fortune but the protection of someone he cared about.
I have to admit though that there are those out there that blatantly call others to blatant sin. The gangs don't disguise their violence. I've heard that some even have the requirement of having to kill someone before you can join. So why would anyone want to join?
Often it is because they offer something that is lacking; belonging. Gangs replace an absent family or provide a place of shared community that is lacking. They can be 'mother' and 'father', 'sister' and 'brother' to someone who feels alone. The demands of this 'family' are high!
Another reason to join is the 'protection' offered by the gang community. Once inside, the individual is part of the armed community and 'safe', or so they think. Members protect one another. But being associated with a gang makes you a target of other gangs and the police. Most gang members end up in one of two places, and neither of these is the 'old age home'; it is the grave or jail.
Some join because they see the money and prestige flaunted before them. Little do they realize what the price of these items are! Self-respect, dignity, and often life are exchanged for a small portion of what they feel is important.
What do we do in the face of such opposition as someone competing for our children's souls, or even for our own? First of all, PRAY. It is not only a physical battle for your child's attention but a spiritual one. Satan is in the gangs. God is NOT. Ask God to set His angels over your children and protect them from such enticements. Second, be the 'community' and 'family' they need. Don't look to others to provide this for them. 'Hang' with your children. I even learned to rollerblade so I could do activities with my children as they grew into teenagers. To this day, we play games together and I give them games appropriate for their children's ages each year for Christmas so they can remember to play together too. Third, model the kind of behavior you want from them. Don't 'bring home' items from work yet speak to them against stealing. Teach them compassion for others by modeling it yourself. Enlist the help of other models of good character for them. KNOW their friends! Finally, recognize that these BIG issues don't start without little issues first directing the path. Satan never starts big. He entices with the seemingly innocuous issues first. Be alert for the 'little sins' and you won't get waylaid by the 'big' ones. Be alert. Satan is sneaky, as Eve surely found out. One 'little' sin can lead to 'bigger' sins if ignored in our lives. Don't let them pile up! Bring them to the Father immediately to ask for forgiveness and help in NOT repeating that same mistake. Guard your heart and mind. They are precious and the places Satan looks to attack. Your attacks are more likely to come from these fertile places than from outside. And trust Him to lead you away from temptation.
Father God, thank You for the years I spent with my children. Thanks for all the good seed I was able to sow. I trust it is handy and still has growth in it. Help the seed in me to grow more each day too.