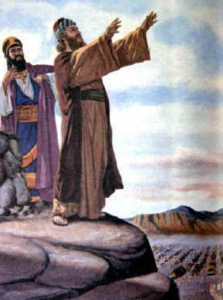 Balaam speaks the first of several times for the Lord. But what he speaks is NOT the curse Balak brought him here to pronounce.
Balaam learned his lesson well with the donkey. When he met Balaam in person he emphasized that lesson. "The word that God puts in my mouth, that must I speak" (verse 38b). In other words, he wasn't going to say ANYTHING, good or bad, that didn't come directly from God.
The first order of business was to prepare the group seeking God's word. That included erecting altars and making sacrifices. I'm not sure if these sacrifices were to atone for the sins of those erecting them or to try and get on God's good side. Balaam was the one who ordered it. He was not about to use the altars Balak had already set up for some other god.
Balaam went to meet with God so he could deliver God's message to Balak. Balaam must have known the tone of the message before even going because of the answer he received at home and the events on the road. Balaam made a showing of good faith for Balak by going to seek God's words. He could have said that he wasn't going because he was already given his answer but he went through the motions.
The answer God gives Balak is not quietly written down and handed to Balak to save face for him. Balaam speaks it loud and clear in the presence of all the princes of Moab. Everyone heard God's words. They were NOT a curse but a blessing instead. "How can I curse whom God has not cursed? How can I denounce whom the Lord has not denounced?" (verse 8) and "Let me die the death of the upright, and let my end be like his!" (verse 10b).
Even with all their grumbling and rebellion God remained true to His people. Even though He wanted to wipe them from the face of the earth on several occasions, they were HIS. He would not abandon them. He refused to turn His back on them. He STILL had plans for them. Miles to go and promises to keep.
Balak recognized the words that Balaam spoke for what they were; a blessing instead of a curse. "Why didn't you do as I asked? I asked you to curse them and all you did was BLESS them!"
Balaam's reply was simple, direct and truthful. "I have to be careful and ONLY say what God tells me to."
Father God, I would LOVE to be able to make that statement about my own life. I know things have passed my lips that wouldn't pass this test. I'm sure there were times in Balaam's life where he didn't have to speak Your words but every time he was asked to Give YOUR answers that is what he did. He took no thought for his own life in this situation. He didn't change Your answers to protect his own skin. Please let me be more like him. Let me speak the truth in love, regardless of what might happen as a result. And remind me DAILY to come to You for those words.