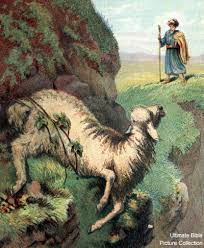 Jesus is still in the house in Capernaum teaching His disciples. The young child is either still with them or still on Jesus' mind.
I'm going to come right out and say, I'm having trouble again today with our study theme. I am currently dealing with a child issue and am struggling to bring my attitudes and behavior in line with Jesus'. The children of today are not the children of Jesus' time. But the Jesus and God of today are exactly the same as they have always been. Loving, forgiving, and approachable. I CHOOSE to adopt His attitude of love, weather I feel it or not. Forgive me Lord for my attitude. Help me extend Your love, regardless of the result. Help me to listen to You in the moment.
Jesus today says not to despise one of the little ones. Dictionary.com defines despise as: "to regard with contempt, distaste, disgust, or disdain; scorn; loathe." Those are horrible words (and attitudes) that I have to confess I have found myself displaying very recently; hence my prayer and my difficulty in writing today. God knows just how to get my attention when I stray.
In our passage Jesus says the angels of the little ones always see God's face. Their angels take their marching orders directly from God. He loves each and every child and wants only the best for them. He also longs for them to come to Him. He is not blind to their behavior, good or bad. He loves them regardless, and often in spite of, their behavior.
Jesus' reference to the lost lamb applies directly to every one of us. The "lost lamb" belonged to the Shepherd already, but left its place of safety and got itself into trouble. The Shepherd isn't concerned with the reason the lamb is out, at the moment; He just wants to find it and bring it home before the wolves get to it.
This reference also pertains to those who have never accepted Jesus as Lord and Savior. They too are God's lost lambs. God made each and every one of us. Those who are safe in His care have come home to Him. He still searches and calls to those still wandering the hills. Every time even one of those lost sheep are brought into the protected fold, there is a celebration in Heaven unlike anything the Earth has ever known. One more soul, who was made in God's image, has finally seen through Satan's lies, and turned to his/her Creator.
The 99 sheep still on the hill are not left to fend for themselves while the Shepherd is out searching. They are under the watchful care of the Son and the servants. Those remaining with the 99 are also busy making sure the other sheep don't become enticed by whatever the lost one went searching for. Those tending the flock defend it against predators, ensure there is adequate food available, and provide direction and guidance. These sheep are safe as long as they remain with the flock and those tending it.
Father God, thank You that You don't let the sheep that stray away face the consequences of their actions on their own. You search diligently for them in order to bring them back to safety. Thank You that You also notice the moment one goes missing. You never wait until the end of the day to go out searching.
As one of Your lost and found sheep, I'm sorry for the times I hid from You while You searched. I couldn't hide from Your sight because You saw me the whole time, but I covered myself in sin and blocked You from reaching me. Thank You that You kept calling my name until I finally listened and stepped away from my blanket of sin. Thank You that, after You found me and brought me home, that You bathed me and dressed my wounds. Thank You also for keeping the worst predators at bay while You lovingly called to me to come out.
All my wounds were self-inflicted. I either rightly earned them through my behavior or I wounded myself because of guilt and shame. My heart was bleeding as I lay under my sin blanket, convinced that You wouldn't come for me after so many other wandering incidents. But You came anyway. You came for me every time. And every time You brought me home and healed my heart. I'm so sorry I keep wandering away. I truly want to stay with You always. Thank You for loving me, in spite of my behavior.
I LOVE YOU ~ Your little lost and found lamb.