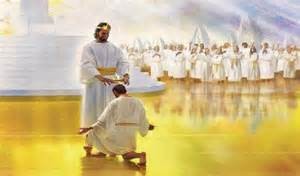 Today is the last day we spend on Jesus instructions and job description for His disciples. The last section focuses on the reward or compensation they can expect for their service. This section actually deals with the compensation those who help the disciples would receive. We are, however, told that there is a reward for being a prophet or a righteous man or a disciple.
Jesus starts out by telling His disciples that anyone who receives and welcomes them is actually welcoming Jesus and God Himself. The disciples are going out in Jesus name. Jesus came in His Father's name. Therefore, whoever welcomes a disciple is welcoming God. This follows the chain of command principal. What the lowest employee does is supposed to reflect and represent the ideals created by the highest level of management.
Jesus told His disciples that those who welcome a prophet will receive the same reward as a prophet. He said anyone who welcomes a righteous man will also receive the same reward as a righteous man. Jesus doesn't give any detail as to what either reward is here. I was Googling this question and didn't get very far. I did find a website, Bible Knowledge.com, that goes into some detail about the five different crowns and the rewards in Heaven. I really liked what the author had to say. I'm also going to go with what I believe is being referenced here.
Let's start by looking at the prophets of the Old Testament. The first thing I notice is that God provided for their needs. God sent ravens to feed Elijah. Jonah was shaded by a gourd while he was sulking. God shut the mouths of the lions for Daniel. These are just a few examples. God's prophets never got rich by being a prophet but God provided for their needs. Even when they were rebelling, God still looked after them. Jonah didn't die in the belly of the big fish. Definitely a God thing there. Balaam was protected through a talking donkey. My favorite part of this story is that it doesn't even shock Balaam into silence when his donkey starts talking. He just argues back with it!
Decidedly the most important "reward" that the prophet received is everlasting life with God. As God's ambassador you KNOW they had to have a personal relationship with Him. Therefore, they are sure to be in Heaven with Him now. God will present them with a Heavenly reward, but the specifics of this reward are unknown to us. I'm certain they will have some form of crown and incorruptible reward.
The righteous man also receives the same reward of eternal life with Jesus. In 2 Timothy 4:7-8, Paul talks about a crown of righteousness that he is expecting to receive when he meets Jesus. I think we can all say that Paul, after he met Jesus on that Damascus road, lived the life of a righteous man. Again though, the greatest reward for such a life here on earth is eternal life with God in Heaven.
Jesus ends His topic of rewards by saying that, "whoever gives one of these little ones even a cup of cold water because he is a disciple, truly, I say to you he will by no means lose his reward" (verse 42). Jesus is placing a very high value on service to His disciples. I think a key phrase in this passage is "because he is a disciple." People ministering to those ministering for Him have a GREAT reward in Heaven. Matthew 25:31-46 makes it clear that service to another is service to Jesus, and because of this service, eternal life is the first reward. The simplest acts of kindness rendered to those in need, especially those serving God in some capacity, are recorded in Heaven. Thank you for Giving to the Lord.
Father God, I know the disciples didn't enter into ministry with Jesus to become rich and famous, or at least most of them didn't. They came to serve beside Jesus because they believed in Him and what He was doing. They freely gave up all they had on earth, simply for the promise of eternity with You. You promised them an eternal rewarded, but also promised them earthly trouble. They counted the service Jesus was asking of them worth the price. As Jesus closed His job description each one of them said YES to Him and His assignment for them.
I said YES too, many years ago. My answer hasn't cost me nearly what theirs did. I haven't lived up to that answer on many occasions too. You never fired me when I wasn't pulling my weight, but You also didn't let me get away with it. You constantly bring me back to where You want me to be. Your plans for me are not nearly so grand as those You had for Your disciples, but I want to be useful to You in whatever capacity You have already designed for me. Please prompt me to serve that glass of water or show me when to lend a hand. Those are the tasks that I am able to do. I pray that I am willing and listening each time You bring me such an opportunity. If You have another plan for me, show me clearly what it is and walk with me daily as I walk the road You laid out before me. Thank You for choosing me for Your work, no matter how big or small my part is.