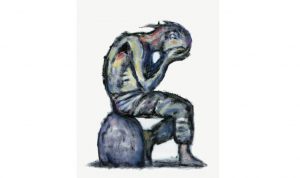 We join Jesus in His final hours. Heaven bears witness to this event as well. The scene is also full of spectators. Many people have gathered to witness Jesus' death, including the religious leaders.
We looked at this scene in Matthew and Mark. Luke brings us a perspective on the spectators that we didn't see in the other two accounts. Matthew shared the centurion's realization that Jesus was indeed innocent, but Luke shares the people's reaction. "And all the crowds that had assembled for this spectacle, when they saw what had taken place, returned home beating their breasts" (verse 48).
I want to know which of the groups of people reacted this way. I'm certain it wasn't the religious leaders. We know of Caiaphas' continued involvement in Jesus' burial. He still wasn't accepting Jesus as Christ, the Son of God.
The people watching Jesus have seen darkness descend on them and remain for three hours. There has also been an earthquake at the time of Jesus' death. To top it all off, Jesus' attitude of love shown through even the harsh treatment He received. Not once did He curse His tormentors. He didn't call for vengeance but for forgiveness for all those involved. He even promised salvation to the thief beside Him. All these acts spoke volumes to the observers.
I would not be surprised to learn that some of those assembled had been present at Pilate's home and in the crowd. Now the blood of this innocent man WAS on their hands. They felt the weight of their guilt. Luke tells us that they went home "beating their breasts." This was a sign of incredible remorse. They saw no way to undo what was just done. Too little too late.
A group of women who had been following Jesus stood by watching. They didn't leave. They felt the weight of Jesus' death profoundly, but they needed more. They needed to know what happens next. We will visit that need tomorrow.
Lord Jesus, Your death broke through many of the spectator's doubts. But they left that day carrying a load of guilt. I share in their guilt but I have hope too. They didn't know there was hope on the horizon. Just three short days and the final piece would be in place. Both Jesus' followers and the guilty spent that Passover in sorrow. How did the knowledge of what they had done affect their holiday? We know Your disciples spent those days in fear. What did the others do? Did they spend it in mourning and repentance?
Father God, You spoke so clearly that day as to Your displeasure with the scene. But You stayed Your hand too. You could have easily struck every one of the religious leaders dead for their part in Your Son's death. You had to stand by and watch. That one moment when You had to look away tore Your heart as much as it did His. Thank You for enduring it too. Thank You for Your sacrifice too.