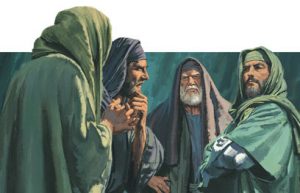 Our reading today is very short. I thought about combining it with tomorrow's but decided not to. Honestly, one of the main reasons is because I'm very tired tonight. My brain has been overworked today and I don't know how effective a communicator I will be. Anyway, back to our reading.
There are only a handful of days that separate Jesus from His appointed task; being our sacrifice. He has been teaching in the temple every day since arriving and He will continue to do so until the final day. Nothing is going to stop Him from reaching out to the hurting people. The people can't seem to get enough of Him either. He is surrounded every day.
Therein lies the rub. The religious leaders have three primary issues with Jesus. First is who He claims to be. He is performing miracles left and right and clearly demonstrating actions that would be expected of the promised Messiah, but He doesn't fit THEIR mold or ideas. They want a Messiah who will do things their way, not His own.
The second problem the religious leaders have against Jesus is His teachings. Jesus is teaching with authority and power. He is teaching the people about having a personal relationship with God. He is also putting that relationship above all the religious doctrine that the Pharisees have heaped on the people over the years. This puts the religious leaders out of their authoritative exclusive role.
The final main issue the religious leaders have with Jesus is that He is backing up His claim of power and His teachings with miraculous signs. He isn't simply putting out some strange new doctrine but He is proving His words through His works. He is showing His power and authority in how He casts demons out and heals the sick. I can't imagine the faces of the religious leaders if they had actually witnessed Him walk on water or calm the storm. These acts were only done in view of His disciples.
So we know the religious leaders were motivated to get rid of Jesus. They had tried reasoning with Him or pushing Him out but those tactics didn't work. If He were to go unchecked He would turn the whole nation to Him. He was VERY popular with the little people. Something drastic had to be done and done SOON.
But whatever was to be done had to also be done quietly. There was NO WAY the religious leaders wanted to lay hands on Jesus in front of His myriad of followers. They would probably be stoned themselves if the people found out that they actually intended to kill Him. Even Judas didn't know of that plot plan when He betrayed Jesus.
The religious leaders were desperate but stuck for now. They want Jesus gone permanently but have to avoid making their move in front of the people. They also want to preserve their most holy of religious ceremonies. So they plan to take Him when He is away from other people and to wait until after the Passover.
Have you ever heard the saying, "When man plans, God laughs"? This is exactly what will happen here. When we looked at this event in Matthew we talked about how God moves everything in place exactly where and when He needs it. He was about to make His move here and completely change the plans.
Father God, Your plans are perfect. You leave nothing to chance. Lord Jesus, thank You for Your teachings. Thank You for showing me how to have a real relationship with God. I could never have lived under all the rules of the religious leaders. Thank You that You made a better way. Thank You that YOUR timing is all that matters.