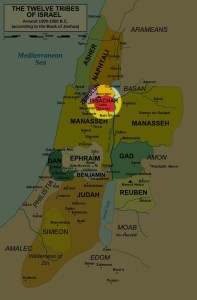 Issachar is the fourth tribe to receive their inheritance by lot. This is another very small landlocked portion.
There is not a lot of information about the tribe of Issachar, even as we read on in our bible. I tried looking up their history through google, of course, and came away with a one paragraph synopsis on the Encyclopedia Britannica website.
I did find Issachar's chiefs mentioned in 1 Chronicles 12:32 where 200 of them join David at Hebron to advise him. They brought their families and the men under their command to serve David also. They joined David when it was time to turn the kingdom of Saul over to David.
In Genesis, when Israel blessed his sons just before his death, the blessing given to Issachar dealt with his strength. "Issachar is a strong donkey, crouching between the sheepfolds.  He saw that a resting place was good, and that the land was pleasant, so he bowed his shoulder to bear, and became a servant at forced labor" (Genesis 49:14-15). I don't know if Israel is looking forward in time to Issachar's lot given by God and Joshua or not. I wouldn't be surprised though if he is though.
Comparing the map of territory taken by Joshua during the campaigns and the lot given to Issachar, it looks like Issachar's land was already cleared of the inhabitants but I could be wrong. We know that Judah still had work to do even in the cities where their kings were already defeated. Issachar may have as well. I expect they were ready to work for their inheritance, judging by Israel's prophecy/blessing.
I would also bet that they were astute observers and good at planning. Those skills were what they would one day offer to David in pursuit of God's promises. I wonder if they offered these skills to their neighbors along the way. They may not have been known for their fighting prowess but their grasp of trends, ability to put forth effective strategies, and wisdom would serve Israel well over time.
This tribe would also be one of the ten who broke away from the line of David when Israel was split in two after Solomon's death. Did they just go along to get along or were they instrumental in the plotting? Were they trapped by their geography or did they agree with the philosophy? I don't have any answers here but would like to ask during 'bench time' when I get to Heaven. Maybe Jesus will introduce me to some of the people from this tribe so I can ask my questions.
Father God, I KNOW that EVERY ONE of Your children is special and important. But, just like in any family album, some children don't appear in the pictures as often as others do. I recognize that Jesus' story follows Judah's tribal lines and that is where a lot of the focus is. I can't imagine how huge the bible would be if You followed each of the tribes as closely as Judah. But this leaves me with so many questions. Not questions of faith but 'I wonder what happened…' questions. You know my tendency to look for the backstory. I really would like to know what became of this tribe. Thank You for giving me little glimpses at least. I wonder if anyone can trace their lineage to this tribe today. NO MATTER WHAT You didn't lose track of them. When the time is right You will bring them back onto the scene. Thank You that You know exactly where I am at all times and what it takes to bring me closer to You. Thanks for letting me use my 'I wonder' eyes too.