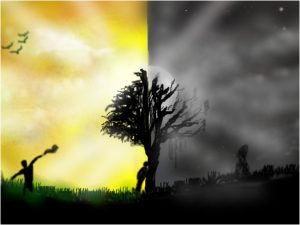 We join Jesus and His disciples on the far side of the Jordan where they went after leaving the Jews trying to stone Him. They have been hanging out there for a little while, letting things cool off. Now Jesus is planning on going back.
Jesus was very close to Mary, Martha and Lazarus. "Lord, he whom You love is ill" (verse 3). I would venture to guess that Lazarus was as close to Jesus as a brother. He was a follower of Jesus, but not one who followed along with Him on His journeys. Jesus visited in this family's home when He went to Jerusalem. He even stayed with them in the evenings of His last week before the cross. They were close as any family could be.
But Jesus didn't come when called. Jesus wasn't worried about Lazarus' death. He knew what was coming next. Jesus reaction sounds to me like this was part of God's plan all along. I wonder why. Was Jesus giving His followers "a preview of coming attractions?" Was He proving to all that life could be restored? Was He giving them something to hold onto when doubt would try and creep in during His own time in the grave? Was Lazarus' death a warning to Satan?
When Jesus was finally ready to go to Bethany His disciples were more than a little concerned. Jesus at first made it sound like a normal everyday visit. Lazarus is asleep and we are going to wake him up. No big deal. In fact, his sleeping was thought to be a good sign. Now that he is sleeping he is on the mend. "No boys, you don't get it. Lazarus is dead." When Jesus clarified His statement about Lazarus' "sleeping" to His disciples He didn't clarify the "awaken him" part. Instead He spoke of how glad He was that they were going to get to witness something extraordinary. I don't believe they had any idea what Jesus had in mind. Boy, were they in for a surprise!
Jesus' disciples were more worried about the danger that lay ahead for Him than in the mission He was on. "Jesus, they just tried to stone You and You want to go back? Are You nuts?" But Jesus doesn't let their fears sway Him. Instead He says something very strange to them. "Are there not twelve hours in the day? If anyone walks in the day, he does not stumble, because he sees the light of this world/ But if anyone walks in the night, he stumbles, because the light is not in him" (verses 9-10). I can just hear His disciples' minds. "What was that supposed to mean?"
I certainly heard mine saying the same thing, but then I was reminded about their exit from Judea to begin with. When the Jews were trying to stone Him, He walked right out from among them, in BROAD DAYLIGHT. And He brought His disciples out safely with Him. He didn't need to wait for the darkness to hide them. Those seeking to harm them were using an outside light source to search for Him. He was hidden from them because His light is from within. They see only spiritual darkness instead. He is protected from them until HE chooses to reveal Himself.
Thomas certainly didn't feel buoyed by Jesus' words. He appears to have resigned himself to all of them being killed on this journey. "Let us also go, that we may die with Him" (verse 16). He didn't hold out any hope for them making this journey in safety, let alone being any help to Lazarus. But he also didn't have any intentions of letting Jesus make this journey on His own. "If He is determined to get Himself killed, then we will be right there beside Him as we ALL take our last breaths together." I wonder if the disciples would have manifested this same attitude in the garden if Jesus hadn't stopped Peter in his tracks. Would they have stayed if Jesus hadn't quietly surrendered? I applaud their dedication to Him and willingness to, once again, put their lives in His hands.
Lord Jesus, I pray I didn't make a muddle of Your words. I know that You laid down Your life and no one took it from You. I know You had Your own timing for all You did. It's amazing to me to see something as small as one ordinary man's illness and death have such a cosmic importance. I understand the importance of Yours, but Lazarus' still leaves me wondering. I also wonder what happened to him afterwards. Did he become part of the beginning church? Did his testimony reach where no other could? Was he there at Calvary? Did he give Your disciples hope during the dark days? Was that his purpose?
I know I will never have the kind of impact Lazarus' story does, but what is my purpose? I know You have one for me as well. I pray I don't mess it up. I want to be used by You in whatever way YOU choose. Please show me what I am to do. If this is it, THANK YOU! If not, move me to where You want me to be. I seek Your glory in whatever I do. Forgive me for the times I put me first instead. Thank You for the encouragement to keep going. I have been feeling discouraged and lonely lately. But even if it is just You and me, I am NOT alone! I have You! Forgive me for forgetting again.