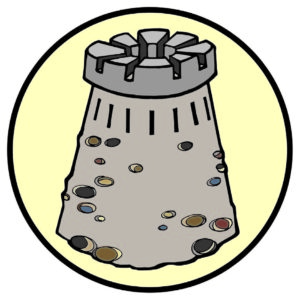 The Tower reading: Habakkuk 2:1-4
Habakkuk was disgusted watching the way the wicked got away without punishment. He saw the wicked in his own people as well as the nations around him. He knows that Israel is God's chosen people but they are not following Him. He wants to know WHEN God is going to do something about this mess.
"Don't You see what is going on down here? It's a MESS and You just let it go on and On and ON! DO SOMETHING!"
God hears Habakkuk and understands his frustration. But he will not be rushed. He has a time and place for everything. He tells Habakkuk to 'watch' and see.
Habakkuk chooses to go to a tall tower, his watchpost, so he will have an unobstructed view of the land before him. He is going to wait here to see how God will answer him. I wonder if he was trying to see it from God's perspective; above the people. Did he see this as how God looks at His people? In his day, he may have been fairly accurate. But God was changing that. One day He would look His children in the eye; see face to face.
God knew the mess His people were in. He knew exactly what they were doing and it broke His heart. He also knew exactly where He needed them to be and what it was going to take to get them there. He loved them enough that He would take them wherever they had to go to get to where He needed them to be.
God gave Habakkuk a vision that he was to share with the people. It spoke of the fact that there would be judgement for sin. Evil would have an end but it would also be in HIS time. The promises God had made to Israel from the beginning were still valid, including the promises of correction. NO promise of the Lord ever goes unfulfilled.
Thinking of Habakkuk in his tower reminds me of a map, a treasure map. Looking down you see the major landmarks but you don't see the detail in each step along the path. In the plan God has for us He points out a few landmarks along the way. These are all important points we need to watch for because they also offer turning points.
The major 'landmark' we are walking towards right now is the birth of His Son. His birth marks a turning point for the world. It marks the place where God comes face to face with His creation. He sees the world through our eyes instead of looking down from above. It marks the promise of Emanuel, God with us.
Thank You God that You ALWAYS keep Your promises! Even when those promises take a LONG time getting here, from my point of view. You have been faithful from the beginning and I can trust You to be faithful until the end. It's hard, but I will keep waiting. Waiting on some of that justice Habakkuk asked for too. But definitely waiting for our time together; bench time where You share all Your stories with me.