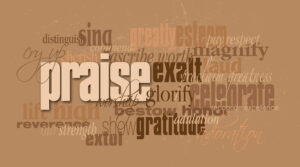 Two 'places' those who love the Lord are not silent is in praise and in proclaiming His works. If we don't speak, how will they hear? Sing His praises and proclaim His name!
I don't know about you, but I have MUCH to sing about. And it has NOTHING to do with worldly blessings. This is not to say that He hasn't given me MANY blessings in this world but that the GREATEST blessing I have is Him as my Savior! If you are here with me, you probably have this gift of God too.
This gift comes with MANY promises. A promise to build up and not tear down. A promise to bless and not curse. A promise of joy in place of sorrow. A promise of healing where pain and disease once was. And a promise to be my God fore ETERNITY.
Isaiah can't keep quiet! These promises are far too important and wonderful to him. These promises are also for ALL those who will listen. He will proclaim these wonders until the day they are fulfilled. They WILL be fulfilled too, for these promises come straight from the Lord; Creator of the universe!
There have been times when Isaiah spoke hard truths to the people. He spoke of their sin, of God's upcoming judgment, and their need to repent. In our passage today, He speaks of a glorious future. He has actually been speaking of this future for some time in our reading. And, like the other portions of his prophecy, it lies beyond the present days of those who were hearing it. The fulfillment lies beyond today too. The fullness of it lies in the days of Jesus return and reign on earth as well as in the new Jerusalem.
This promise is SO FAR OFF that one may wonder why do we even care, how do we know it won't change, and what does it have to do with me? Let's take these one at a time.
"Why do we even care?" This future where God is "married" to Zion is one of great intimacy. It shows His complete commitment to ALL those who are within her boundaries. It's the place of beginnings where He and she reach out to touch the world around her. A place where ANYONE who loves Him would LONG to be. In His arms. I care because I want that for my life; now and forever more.
"How do we know it won't change?" God's word is FULL of promises. Some that have already come to pass and some that are still on the horizon. Some are so specific that they mention a person by name LONG before he is even born. Our recent encounters where God calls Cyrus by name is one example. Others left those before their fulfillment wondering what and who He meant. The prophecies of a Messiah were certainly among these. On this side of the promise, we see their fulfillment EXACTLY as God said would happen. Because of this, we can see His ability to look beyond our time and see ALL that lies ahead. And we have seen Satan's attempts AND utter failures to alter ANYTHING God has said would come to pass. Therefore, we can have complete trust that EVERY WORD He says WILL come to pass. It doesn't mean we will know exactly what that looks like beforehand, but that we can be CERTAIN HE does. We can trust His word completely!
"What does it have to do with me?" I'm not Jewish and I don't live anywhere near Jerusalem. How is God caring so much for Jerusalem mean anything to me? We have seen in previous passages of Isaiah's prophecies that the inhabitants of Jerusalem will not only be Jews but Gentiles too. This lets me in on lineage. We have also read that those around the world will be drawn to Jerusalem. They will come by every means available to be with Jesus in that city. And they are welcomed! That eliminates geographical boundaries, so long as one desires to be where He is.
One more question that wasn't asked yet. What does that have to do with me today? That's the one that matters most right now to all of us. "A journey of a thousand miles begins with a single step." If all anyone did was wait for that day to come, no one would be inhabiting that promise. This promise is a progression. Jerusalem today is NOT the Jerusalem of the promise. There is MUCH that needs to change before she fits the description of the city God will "marry." And we each have MUCH that needs to change before we fit the description of a people fit to inhabit that city.
Do you remember the parable of the wedding feast (Matthew 22)? The one I'm thinking of has two parts to it. First, the guests that were invited and who actually attended. Second, the changes in the attendees once they arrived.
In the parable, there were MANY guests who were invited LONG before the marriage took place. They should have been anticipating and ready for the summons but they weren't. They got caught up in other things and lost interest in the wedding. The king was furious when he heard their excuses so they were all killed (punished). Then the king called his servants to grab everyone they could find and invite them in for the wedding feast.
Guests came from everywhere to the feast. But there was more to attending than just showing up. Once the invitation was accepted, there was work to do before sitting down at the table. The king had ALL the necessary items for their transformation. The guests didn't have to run out and buy proper attire; it was provided for them. Also provided were the means to get ready. Water for bathing, examples of what was expected, and even attendants to help with the preparations. ALL were expected to take advantage of the resources provided by the king. One man decided to come on his own merits. He was immediately noticed and singled out for removal.
We Gentiles are the new guests at God's wedding supper. Unlike the parable, there will be some of the original guests, Jews, who attend. We are told this in Revelation 7 with the 144,000 from the 12 tribes. We are ALL expected to 'dress for dinner'. We do not get into that feast on our own merits. Neither do any of the Jews. We ALL need to undergo the transformation; submit to the work He does in us once we accept His invitation to salvation. We don't make an instantaneous transformation to perfection. We make the immediate adoption into His family but we have work to do after that. HE provides all the means, materials, and assistance for that transformation. All we need to do is accept it. Thus, our journey of a thousand steps begins with salvation. Those who try to skip that first step, no matter how hard they try, will NOT reach the point of transformation required. It's step one first or none of them matter!
While on our journey, we are to tell of the blessings provided to us and the requirements to join in. "Sing His praises and proclaim His name!" Don't be silent! You never know who is listening and needs to know that He would LOVE for them to join in on this journey too. Speak the truth in love.
Father God, THANK YOU for inviting me on this 'journey' with You. Thank You for providing EVERYTHING I need to be ready to meet You; to sit at Your table. Help me sing Your praises and speak of Your truths. Let me do so with love and boldness. Don't let me hide for fear of rejection by man. But also, don't let me steamroll anyone. Help me be Your hands and feet to those around me and let You shine forth in all I do.