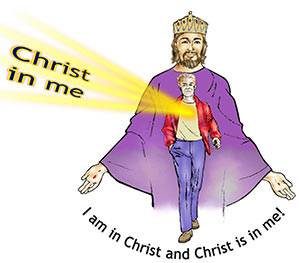 Paul continues to contend for justification by faith instead of works. Not only were the Gentiles sinners but the Jews too! And just as in need of God's grace.
The whole argument in a nutshell; "If righteousness were through the law, then Christ died for no purpose" (verse 21). The law could not do what needed done so adherence to it still would NOT save anyone.
But the concepts of serving God with your whole heart and behaving rightly towards your fellow man were not thrown out. The law gave specific directions for the Jews daily lives. It spelled out blessings and cursings for adherence to it. Everything was based on a quid pro quo system. If you do ___ then God will do ___.
I find it interesting though that not everything worked exactly that way. A prime example of that was the man who was born blind that Jesus healed. The question was asked of Him as to who had sinned to cause his blindness; him or his parents. Jesus said that neither had caused it but it was for the purpose of demonstrating Jesus' authority on earth. Therefore not everything bad was a curse from God as a result of some sin a person had performed.
But then again, EVERYONE has sinned so none of us deserve anything better than a curse. We live in a world that is cursed from the actions of man. Yet there is now true hope! What the law couldn't do, Jesus did!
"I have been crucified with Christ. It is no longer I who live, but Christ who lives in me. And the life I now live in the flesh I live by faith in the Son of God who loved me and gave Himself for me" (verse 20). So if Christ is living through me, or more appropriately me through Him, I will be engaging in behaviors that are pleasing to Him without the necessity of justification by those behaviors. Jesus has already justified me, just as if I never sinned! And BECAUSE of that I desire to live my life pleasing unto Him. The concepts of loving God with all my being and loving my neighbor as myself flow out of a life changed by Him through faith and grace.
Live like Jesus would because you want to, not because you have to in order to be saved. This is how we say "Thank You" for all He has done for us.
Lord Jesus I can never thank You enough for what You did for me. Father God I can never repay Your love for me. Please accept my gifts of service to You as a token of my love and appreciation. I know it will NEVER be enough to repay You. I also know that it is not why You completed Your plan. It is just my way of saying I love You. Help me remember to say thank You every day in every way I can. I want to live with an attitude of gratitude at all times, even when life is frustrating. Forgive me for my attitude in those times when I don't display my desired attitude. I know there have been and will be plenty of opportunities for Your forgiveness. Thank You in advance too.