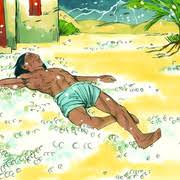 We come to the seventh plague on Egypt. That of hail. Killing hail! But God also told them how to protect themselves during it. IF they listened.
This plague carried a difference for the Egyptians who had "learned their lesson" by now. Those who feared God and trusted the word of Moses would be spared. They were spared by doing EXACTLY as Moses told them to; get under cover. Their crops weren't spared but their lives and that of their animals were, IF they listened and obeyed.
  ♥ ♦ ♥
The evening meal is over and Moses is again under his favorite tree. He is spending some quiet time with the Lord. The days were hard again since the plague of boils had passed. Moses needs this time in the evening to give him strength to go on with the Lord's work and his physical labors. It is amazing how much physical strength he receives in his quiet time with the Lord. He wouldn't trade it for anything!
Moses is used to waiting quietly for the Lord to speak. Some night the Lord chooses to remain quiet and simply hold Moses in His comforting arms. Those nights have often resulted in Moses falling asleep under their tree as the peace of God covers him both spiritually and physically. Tonight isn't one of those nights though.
"Moses"
"Here I am Lord."
"I have another task for you with Pharaoh. I want you to 'rise up early in the morning and present yourself before Pharaoh and say to him, "Thus says the Lord, the God of the Hebrews, 'Let my people go, that they may serve me. For this time I will send all my plagues on you yourself, and on your servants and your people, so that you may know that there is none like Me in all the earth. For by now I could have put out My hand and struck you and your people with pestilence, and you would have been cut off from the earth. But for this purpose I have raised you up, to show you My power, so that My name may be proclaimed in all the earth. You are still exalting yourself against My people and will not let them go. Behold, about this time tomorrow I will cause very heavy hail to fall, such as never has been in Egypt from the day it was founded until now. Now therefore send, get your livestock and all that you have in the field into safe shelter, for every man and beast that is in the field and not brought home will die when the hail falls on them'"' (verses 13-19). "
"That is very merciful of You Lord to allow the Egyptians who will listen to save themselves."
"Their lives will be spared but not their livelihood. ALL the produce, including that on the trees, will be destroyed."
The Lord is again aiming for the pocketbook of Pharaoh, but He is offering protection for those who turn from following Pharaoh. Those who listen to His words will be spared.
The next day, as soon as Moses had delivered his message to Pharaoh, word spread about what Moses had said the Lord would bring down on Egypt. Many of the citizens were tired of suffering because of Pharaoh' stubbornness. They had seen enough! EVERYTHING Moses said would happen did, and exactly on schedule. So they trusted the words that were being repeated about Moses' visit to Pharaoh.
Those who listened pulled all their livestock and servants out of the fields. They took shelter right away. They weren't going to wait to see if the hail started then make their move. They were preparing NOW. Some towns were empty as everyone was bringing in their people and livestock while other towns carried on as if nothing was going to happen. One field is observed to be "scurrying" around trying to get everything ready for the plague to come while another group watches and laughs at their antics.
Moses leaves Pharaoh's presence and the Lord gets his attention again.
"Stretch you your hand toward heaven, so that there may be hail in all the land of Egypt, on man and beast and every plant of the field, in the land of Egypt" (verse 22).
Moses did exactly as the Lord had commanded. He stretched out his arm holding the staff. Immediately hail, rain, thunder and lightning began to occupy the sky. The lightning strikes were so strong that they created fire when and wherever they struck. The thunder was deafening as the storm was squarely on top of them. The sound of the hail hitting the ground and the torrential rains added another level to the sounds of the storm. This storm was so loud that those caught in it and those who sought shelter could feel the vibrations of the power the Lord unleashed on Egypt that day.
Pharaoh was one who left his servants and slaves in the field. Many lives were lost that day from Pharaoh's own ranks. Even the animals that Pharaoh left working for Pharaoh lost their lives. But this storm didn't last only a day. It lasted so long that Pharaoh threw his hands up in desperation and called for Moses and Aaron.
"PLEASE stop this! I and my people have sinned against God. 'Plead with the Lord, for there has been enough of God's thunder and hail. I will let you go, and you shall stay no longer' (verses 28)."
"As soon as I leave the city I will stretch out my hand again and stop the storm. There will be no more hail. I know that you don't fear the Lord, but you will. HE put you in power to show His mighty work. You will recognize and respect the hand of God before this is all ended."
Moses left Pharaoh's palace and stretched out his hand again. The hail, lightning, and rain stopped dead in their tracks. But just as Moses had stated, Pharaoh changed his mind. The crops destroyed in the fields, servants lying dead in the field, animals struck down as they went about their work; NONE of this was enough to force Pharaoh to release the Hebrews.
When Moses became downhearted bout Pharaoh's broken promise, again, he turned back to the words of the Lord when He first called Moses to this task. "Pharaoh will drive you out!" Moses knew it wasn't time yet as this was not the state of Pharaoh. Yes, Pharaoh was frustrated but he still held himself above God and God's power. Pharaoh believed he could "out stubborn" the Lord. Moses knew this to be a VERY false hope.
As per the previous experiences with Egypt's relief, the Hebrews relief vanished. Many of their task masters were ready to take out their anger and sorrow on the Lord's people. But some of those previously cruel masters had been those who listened to Moses' words and thereby saved their own lives and those of their household. This later group changed how they treated the Hebrews under their charge. They were not freed but the beatings and punishments for not meeting Pharaoh's outrageous quotas stopped. This group feared what the Hebrew's God would do next and they wanted to get on His good side. Some of these taskmasters would later find themselves pleading the Hebrew's case with Pharaoh. Not so much for the Hebrew's sake but for Egypt's. They were reaching their limit!
  ♥ ♦ ♥
Father God, it is still a VERY mixed bag of people who hear Your word. Many respond to it while many others still reject it. No different in Moses' day than in mine in this respect. Even those who say they are Your people behave the same two ways! THIS ought not to be so; but it is. For that I am very sorry Father. I wish I had a way to truly open the eyes and hearts of those pretending to be Yours. But I know it is going to be this way until the final harvest of the earth. I'm SO GRATEFUL I don't have to make the distinction between those who are truly Your children and those wearing the outward signs only. YOU judge the heart.
Clean my heart daily Lord Jesus. I know I fall short on a daily basis but I am trying to follow You more each day. Forgive me for my impatience with my husband. Thank You for strengthening him. Help me adjust to the added requirements of him being awake longer hours. Give me patience and wisdom in ordering our days. Help me hear YOUR voice in our lives and follow where You lead.