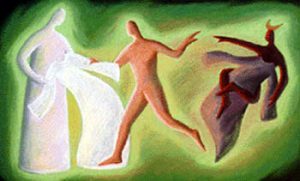 Paul is calling his readers to leave the "old self" behind and put on the "new self" instead. The old self is the life we had prior to meeting Jesus. He makes us new in Him. This new self seeks to please Him in all we do.
The old self was so familiar and comfortable. There weren't any rules to have to live by except the "get all you can for yourself" mindset. It didn't matter how you got what you wanted just so long as the end result was your own satisfaction. Lying, cheating, stealing and manipulation were everyday tools. Some of the best indulgences were sexual in nature. And you always had to have the best of everything, including looks, money, fame, power, and popularity.
But that old self always left you wanting something. Something more. Something different. Just something. It never really satisfied you. There was never enough and what you did have didn't fill the empty hole in your heart.
That "something" is Jesus. But in order to have Jesus, all that other stuff has to fall away. It doesn't happen overnight. We grow into the new self. "Put on the new self, which is being renewed in knowledge after the image of its creator" (verse 10).
This self lays aside its own needs and cares for the needs of others. This self tries to be the person Jesus would be proud of. This self loves his/her neighbor as themselves. This self doesn't use manipulation or deceit to get its own way.
When we allow Jesus to work in our hearts we take on the new self more every day. "Put on then, as God's chosen ones, holy and beloved, compassionate hearts, kindness, humility, meekness, and patience, bearing with one another and, if one has a complaint against another, forgiving each other; as the Lord has forgiven you, so you also must forgive" (verses12-13). These are the attributes Jesus in perfecting in our lives. The new self He is growing us to be.
None of us are going to be this amazing new self every day all day long. We WILL fall short. But that is where the forgiveness comes in. Also the next piece of the new self: "And above all these put on love, which binds everything together in perfect harmony" (verse 14). Love is what holds us together. It is the heart of forgiveness. It is essential for laying aside your own needs to care for the needs of another. It is the life's blood of the body of Christ. Without love there would be no body.
Paul also encourages us to encourage one another. We do this when we share His word, learn together of Him, share what He is sharing with each of us, singing His praises and spending time together in His presence. I don't get to do the physical gathering together because of my life's restrictions but I enjoy singing His praise and sharing what I learn with anyone else who wants to join in.
The final litmus test of whether you are living in the old self of the new self is this: "Whatever you do, in word or deed, do everything in the name of the Lord Jesus, giving thanks to God the Father through Him" (verse 17). If what you are doing, whatever it is, is something you would be ashamed for Jesus to see, you are operating in the old self. If it is something that Jesus would be proud to associate with, then you are living in the self HE made for you. The self that He grew and shaped you into. The self that even you can be proud of.
Father God, I slip back into the old self too often. Less often than I used to in my youth, but still too often. I wish there was no old self left at all. I wish it was so uncomfortable that I wouldn't even be tempted to try it on again.
It reminds me of sucking my thumb. I sucked it for a LONG time because it gave me something. When I finally decided that sucking brought me more shame than comfort I quit. I had to remind myself to not give in for a while. Now I don't even remember the feeling that kept me hanging on to that habit. My thumb doesn't even fit any more. There is no temptation. I would love that kind of lack of temptation for ALL my old self behaviors. Jesus, I know You are working on that in me. I trust You to continue that process until I no longer have any of the old desires. That will probably take a lifetime, but that is just the beginning for us. Thank You for never giving up on me!