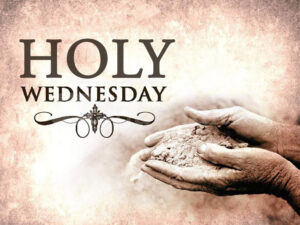 This is the day that the traditional schedule calls a quiet day. But if Jesus was crucified on Wednesday then this would be the day He is taken before Pilot.
For observing the Passion Week Advent I'm going to go with the traditional schedule so I can fit everything I shared previously into this week. Using the Wednesday timeline, Jesus would have had His Passover feast at the Jewish beginning of this day (last night) and be on the cross today. This timeline though would not fit with what I looked at yesterday concerning the dates on the calendar. If Sunday was the 10th then Thursday would be the 14th. That is the day of Passover. But if the sacrifice was slain on the very moment of arrival on the 14th, a Wednesday crucifixion still fits. If the Passover lamb was slain at the end of the day a Thursday crucifixion would fit. And if the Passover lamb was slain as the day rolled into the next a Friday timeline would be called for.
I'm sorry. I seem to be splitting hairs here. I'm going to move on from this point and stick with the traditional timeline for presenting events of this week. I'll leave the questioning for 'bench time' and let Jesus explain it all to me one day when I see Him face to Face.
This day is thought of as a quiet day. One where Jesus stayed in Bethany because there aren't any stories identifying Him taking any action in the Temple. The sermons are finished. All that is left is to share a final meal with His disciples and complete His Father's work. If ANYONE deserved a day of rest it was Jesus. I would lay odds on the fact that if He was resting, He was doing so while also serving. Jesus' time is short and He is making the most of it before it is all gone.
As tradition has us resting I'm going to share with you three posts from before. Keeping this one short will give you a little break so the three will be easier to work through. What I'm sharing from before deals directly with this moment in Jesus' life. I am presenting two different times Jesus told His disciples about His death and its meaning. The first is on the way to Jerusalem for this final time. The second is after His resurrection, on the road to Emmaus. The third piece will be comparing the two events. I hope you find them interesting and thought provoking. I know I did when the Holy Spirit brought them to my mind.
Continue on in remembering this eventful week of our Lord. He is worthy of our time and attention, especially as He walks the MOST DIFFICULT time in ALL His life.
Lord Jesus, I wish with ALL my heart there had been another way to accomplish God's will. My heart breaks each time I think of what You went through. If this was a rest day for You, it was WELL earned! I can't imagine carrying the FULL knowledge of what lay ahead on Your shoulders. You carried that burden without man's help. I'm sure God lightened it as much as He could for You during the time leading up to that moment. But it was something YOU alone had to shoulder in the end. I'm SO sorry for adding the weight of my guilt to Your burden. I wish I could take it off but then I would have NO portion of Your redemptive work. For that reason alone I'm glad You kept it.
THANK YOU Father God for letting Mary do the things for Jesus that I wish I could do now. I wish to give Him comfort in some small way as He readied for that final moment. I wish to give Him honor and my DEEPEST thanks as I remember His journey this week. Help me ALWAYS be mindful of Your Son's work, Your sacrifice, and the price of my salvation. But this week help me honor that work even more.
Thank You Holy Spirit for NEVER running out of new things to share with me from God's word. No matter how often I look You still bring something fresh for me to consider.
Previous Posts Reposted:
Two Tellings: First Telling – looks at Jesus talk with His disciples regarding His death on the way to Jerusalem.
Two Tellings: Second Telling – Jesus explains His life and death on the way to Emmaus.
Two Tellings: Comparison – compares the two different times Jesus explains His death.