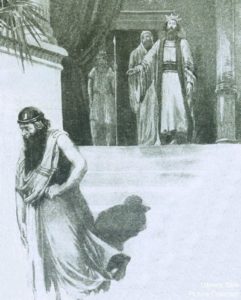 Abner has been the power behind the throne since the death of king Saul. Ish-bosheth falsely accuses him of a great sin. Abner's heart is torn from Saul's family and given to David.
We spoke briefly of this in our last time together. How Abner was leading Saul's house in this long war with David. He was doing so because he was carrying on Saul's desire to keep the throne in Saul's house. But Abner knew that the Lord said He would give the throne to David. It took Ish-bosheth's deep insult for Abner to follow God's will.
"David grew stronger and stronger, while the house of Saul became weaker and weaker" (verse 1b). Yet while Saul's 'house' was decreasing, Abner's influence with the leaders and the people was growing. "While there was war between the house of Saul and the house of David, Abner was making himself strong in the house of Saul" (verse 6).
Ish-bosheth was not a king like his father Saul. He didn't go out in battles. He sent Abner instead. He had the title of king but he was not the one in power; Abner was. We have no idea what it was that brought about Ish-bosheth's accusation of Abner. Was he listening to unwise counsel? Was someone trying to cause division between them? Was he making it up himself? Did he have ANY reason to support his claim? And this was a serious claim. Ish-bosheth accused Abner of improper relations with Saul's concubine, Rizpah. I believe she was Ish-bosheth's mother.
This is one insult Abner will NOT stand for! It tears his loyalty away from the house of Saul completely. He will throw his lot in with David and see to it that the Lord's words are fulfilled in Israel instead. No more resistance. No more war between the two houses. Abner will fold Saul's tents and pass the kingdom to David.
Abner does not hide his intentions from Ish-bosheth. He tells him straight out what he plans to do. Ish-bosheth recognizes where the real power lies and he says nothing in response. I wonder if he tried to Abner's plans or if he accepted Abner's statement as fact. We will never know.
Abner next move is to test the waters with David. He doesn't even confer with the leaders of Israel until AFTER he has his answer from David. He was that confident in his own position and ability.
David is more than willing to end this battle but he insists on one condition. He wants Michal, his wife, returned to him. Doing this will demonstrate Abner's and Ish-bosheth's sincerity. I find it interesting that David tells Abner of the condition but then makes his demand to Ish-bosheth. Ish-bosheth didn't balk at the demand. He tore Michal out of the arms of her husband. We aren't told if Michal objected but her husband sure did. He had to be told to "Go home!" by Abner.
Just a quick observational note here. We are given a list of David's sons and their mothers. We see David had six sons by now and SIX wives. I realize Michal's disposition was a slap in David's face but did he REALLY need another wife? I wonder if her return was more the 'principle' of the thing than a desire for her personally. This is an area where David gets into trouble and his son Solomon follows in his footsteps; but that is a story for another day.
AFTER Abner received his answer from David he went to the leaders of Israel. Apparently the leaders of Israel wanted to go with David but hadn't because of Abner's directions. I wonder if their desire to go with David was why Abner had Ish-bosheth appointed as king. Abner didn't tell them HE would make David king over them but told them to "bring it about" themselves. He further convinced them to follow his lead by reminding them of God's promise to make David king and to save the people through him. "For the Lord has promised David, saying, 'By the hand of my servant David I will save my people Israel from the hand of the Philistines, and from the hand of all their enemies'" (verse 18). The leaders of Israel were MORE than happy to move towards their salvation! And they gave Abner their blessing to speak on their behalf.
When Abner goes to meet David he is confident in his mission. He is bringing Michal and David is welcoming his visit. After more than seven years, peace is before them all. But not everyone is happy to see Abner. Why does there always seem to be at least one 'fly in the ointment'?
I don't know if the report to Joab was done with good intentions or as a 'spy' but it set Joab's teeth on edge. Joab hated Abner for killing his brother Asahel. We went over this event the last time we were together. Joab never moved on from his anger and apparently he had some who were with him in his hatred.
Joab first attempts to drive a wedge between David and Abner. He throws suspicion on Abner's motives. "You know that Abner the son of Ner came to deceive you and to know your going out and your coming in, and to know all that you are doing" (verse 25). David doesn't rise to the bait. He has heard Abner's heart from his own lips. And he knows God's words concerning Israel. He will trust in the Lord.