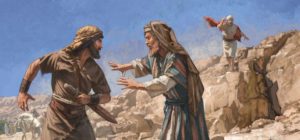 David is fleeing Jerusalem with his 'family' because Absalom is taking the kingdom. On the way to safety, one of Saul's servants rains curses down on David's head.
We have med several people with David as he flees the city. All the previous encounters were positive. Ittai the Gittite threw his lot in with David and refused to abandon him. Zadok and Abiathar were ready to leave with David and the Ark. David had them return the Ark and keep an ear to the ground. Hushai met him to go with him but was sent back to be a spy. Zadok's sons would relay Hushai's messages. And Ziba brought food for David and his band. His service was well rewarded.
David is about four miles away from the city and the crowds who mourned his passing. He is on the far side of the Mt. of Olives. Here he encounters a much different sort of story participant. Let's join him and see what happens.
♥ ♦ ♥
David and his people continue to make their way into the wilderness and towards safety. They are traveling as fast as this large group can safely accommodate. David is buoyed by the encounters he has had. Much love and support have been poured out on him. If he weren't fleeing for his live he would have liked to stop to take it all in.
Ithream and his family have joined up with the procession. They had been away when the call first went out to evacuate Jerusalem. The runner who had brought David the news of Absalom's treachery had brought them word too, at David's request. David is still concerned for those with him but at least one fear has significantly decreased.
Above the noises of the column moving through the land, David hears a new noise. It is someone shouting. At first the words are difficult to make out but as the one doing the shouting comes closer they become clear. The words are NOT the same as those David has previously encountered on this journey. They are words of hate, not love.
David recognizes the one shouting at him. He is Shimei, the son of Gera, from the tribe of Benjamin; a clansman of Saul. Shimei is angry and is not shy in making his anger known.
"You are a murderer! You killed Saul!" shouts Shimei.
David looks straight ahead. He refuses to acknowledge Shimei's presence or his words. He may not be physically turning to Shimei's words but his heart is hearing each syllable being uttered.
"Get out, get out, you man of blood, you worthless man!" (verse 7b).
David fights the feeling of worthlessness rising up within him.
"The Lord has avenged on you all the blood of the house of Saul, in whose place you have reigned, and the Lord has given the kingdom into the hand of your son Absalom" (verse 8a).
"Please don't let it be so", David prays. David knows the Lord has called him to be king but the words of Shimei have struck a chord with him. He should have been there to protect Saul against the Philistines. Maybe Absalom's actions are a punishment from the Lord.
"See, your evil is on you, for you are a man of blood" (verse 8b) continues Shimei.
"I am a man of blood. Untold numbers have fallen at my feet, including the innocent Uriah." David ponders this fact as Shimei continues to taunt him.
Abishai has heard enough of this. This man spews hate upon a man who deserves none of it! David is a righteous king. He was appointed king by God. This man has no right to say the things he does. Abishai turns to David while pointing at Shimei, "Why should this dead dog curse my lord the king? Let me go over and take off his head" (verse 9b).
David looks at Abishai with fire in his eyes. "What have I to do with you, you son of Zeruiah? If he is cursing because the Lord has said to him, 'Curse David,' who then shall say, 'Why have you done so?'" (verse 10). David then looks to the rest of his men. The fire has left his eyes. Now only sadness and resolve remain. "Behold, my own son seeks my life; how much more now may this Benjaminite! Leave him alone, and let him curse, for the Lord has told him to. It may be that the Lord will look on the wrong done me, and that the Lord will repay me with good for his cursing today" (verses 11b-12).
Silence descends on David's men; but not on Shimei. He ratchets up his taunts and begins to throw rocks at David. He is also throwing handfuls of dirt towards David. Shimei is warry enough of David's men to do his taunting from a ridge away but he is still close enough that some of his stones strike home.
David had hoped that by not acknowledging Shimei he would tire of his taunts and go home. Yet mile after mile he follows alongside David spewing his hate. It seems as if his mouth never stops. David's men have put themselves between Shimei and David so his rocks no longer impact him. But David feels guilty whenever one of his men are pelted. Out of obedience to David, they say nothing and take no action against their tormenter.
Mile after mile David and his company walk. Shimei stayed with them until he ran out of ridges. The Jordan robbed him of is vantage point. Bone and soul weary, David and his followers reach the safety of the Jordan. Here they stop for a break.
"I thought he would never leave" whispers Abishai to one of his fellows.
"Me too! It amazes me that he could shout for so long. Didn't he ever get thirsty?"
"Apparently not. I have never heard such a string of vile hatred in all my years."
"I pray for the king. I know he was honoring what he believes God ordained but my heart cringed within me and I wasn't even Shimei's target!"
"The Lord must have His reasons."
Everyone is enjoying a much needed rest and the quiet. But David knows this is not the end of their journey. Danger still licks at his heels.
(to be continued)
♥ ♦ ♥
Why was Shimei allowed to curse David? Was it part of the plan? Was it to keep him humble? David forgives him later on but doesn't ever really forget. On his deathbed he asks Solomon to deal with him. David might have been able to bear up under the assault and pretend it didn't hurt but we see that his wounds were deep.
I have experienced similar mocking and cursing in my life. Not on an hour after hour continual basis but a day after day snipped version. I still carry the scars of some of those assaults. The words ring out in my head still from time to time. I wonder how long Shimei's stayed playing in David's head and heart. Did Shimei's words make David question his life? Did they bring up all his past failures? Did he see it as punishment from God?
THANK GOD He gives us mercy! I can't imagine how many Shimei's I would have in my life without His mercy.
Father God, thank You for Your love. Thank You for the healing You pour over my wounded heart. I appreciate the lessons of the past but not the past that led to those lessons. None of them were enjoyable while walking through them but the benefit on the other side was worth the journey. And I NEVER walked through them alone!
Did David learn an important lesson from his encounter with Shimei? Did it change how he parented his children? I don't think so but maybe he learned something else that day. Patience? Trust in You? Definitely restraint.
Thank You for sharing this story with me. Everyone has struggles they have to walk through. Thank You for walking me through mine!