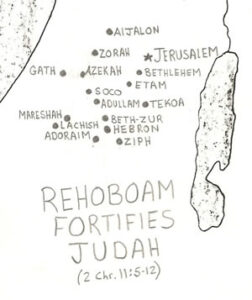 The kingdom of Israel is split. Rehoboam wants it all back but God says, "No; go home." Rehoboam then fortified what was left to him in Judah and Benjamin.
The confrontation between Rehoboam and Jeroboam happened in Shechem. He was there to be crowned king. We are not told if he was confirmed as king before the confrontation but he left not as king of Israel but king of Judah with Benjamin remaining with him too.
This was the promise that God had made to Solomon and to Jeroboam. Because of Solomon's sin the kingdom was torn from the hands of the house of David, with only one other tribe remaining with Judah. This is actually more than David started with when he became king.
Rehoboam is furious! He wants it all back. It doesn't matter to him that this is prophecy fulfilled. His first act when Jeroboam ordered the people 'back to their tents' was to try and force them to comply by sending "Hadoram, who was the taskmaster over the forced labor" (1 Chronicles 10:18a). He was practiced at getting people to comply with the directives from the throne. He didn't succeed. In fact he took his task to the grave; his own. And this act of rebellion sent Rehoboam running home!
I'm wondering how long it took Rehoboam to gather troops to fight the new kingdom of Israel. I figure it had to take at least a few days. First he had to get home to safety. Next he had to have confirmation that Benjamin would stand with him. Then he had to muster forces from the two tribes. And then he had to come up with some kind of battle plan. Was Jeroboam doing the same?
After Rehoboam got everyone together, "180,000 chosen warriors" (verse 1b), God put a stop to it. Why didn't God tell him to settle down before he got all his forces together? Was it so He could tell them all at the same time? His message concerned them all and would shape their future from then on.
"Thus says the Lord, You shall not go up or fight against your relatives. Return every man to his home, for this thing is from ME" (verse 4a, emphasis added by me).
This was the portion of Israel who were following the Lord. They were the ones closest to the Temple geographically. And they were the ones who would remain true to the Lord, for a time.
God told them not to fight against their relatives. But they had real concerns that someday their relatives would come against them. God didn't say they couldn't defend themselves so this is exactly what Rehoboam prepared for instead.
Rehoboam built up and fortified 15 cities for defense against attack by Jeroboam and those in the new kingdom of Israel. "He made the fortresses strong, and put commanders in them, and stores of food, oil, and wine. And he put shields and spears in all the cities and made them very strong" (verses 11-12a). He may not be allowed to attack Israel but he certainly was not going to let them walk in and take Judah and Benjamin.
There was war between the two kingdoms. We will see it again in a few days in out text. But for this day, God stepped in and stopped the first battle from happening. I believe it took a while for hostilities to break out because both kings were focused on their own concerns in the beginning. Rehoboam on fortifying Judah and Jeroboam on replacing God with his own gods.
I'm wondering if God allowed war to break out when it became clear the path that Jeroboam would choose. Neither kingdom would remain true to Him, and He knew this from the beginning, but He allowed the divide to happen before He allowed war to break out.
As I was thinking back over the events of today's text I remembered that this was not the first time Israel had fractured. When David came back after Absalom's death Sheba enticed the people to revolt against David using nearly the same words Jeroboam would use. "We have no portion in David, Nor do we have inheritance in the son of Jesse; Every man to his tents, O Israel!" (2 Samuel 20:1b & 1 Chronicles 10:16b). Maybe the fact that David was able to reunite the kingdom is what fueled Rehoboam's initial reaction. But God was with David and NOT with Rehoboam in his actions. There was a FAR cry between the two men, in terms of leadership abilities and spiritual relationship with the Lord.
Father God, I want to be like David. NOT like Rehoboam. I want to hear Your heart ins all I do. I want to follow wherever You lead me. I especially want to know that where I walk is in Your plan for me. I want to wait when You say 'wait' and I want to run when You say 'run'. But more than ANYTHING else I want to have a deep and abiding relationship with You, even if You don't use me in any other task than praising You.