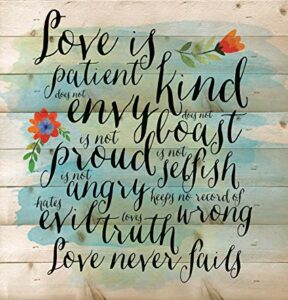 God IS Love! Not the Hallmark greeting card love nor the hearts and flowers floating around the head. He is the ever present, all consuming, and ALWAYS working for our best kind of love.
John has been stressing this point all through his letter. God is love and anyone who does not love, even his brother, is NOT of God. God loved us first so we could know love. And He expects us to pass that love along to others.
"God is love, and whoever abides in love abides in God, and God abides in him" (verse 16b). So what does that look like lived out?
 "Love is patient, love is kind. It does not envy, it does not boast, it is not proud. It does not dishonor others, it is not self-seeking, it is not easily angered, it keeps no record of wrongs. Love does not delight in evil but rejoices with the truth. It always protects, always trusts, always hopes, always perseveres. Love never fails" (1 Corinthians 13:4-8a).
"There is no fear in love, but perfect love casts out fear. For fear has to do with punishment, and whoever fears has not been perfected in love. We love because He first loved us" (verses 18-19).
Let's go back and put some feet in these shoes as it is walked out. We KNOW that God loves us because of the GREATEST GIFT EVER GIVEN! God gave us Jesus, His one and only Son. He didn't just tell Jesus to come and hang out with us for a while. He gave, into the hands of sinful men, Jesus' very life. Yes, He knew "the rest of the story" before it happened, but that didn't diminish His gift; it made it even more personal. God KNEW from the beginning how much it was going to cost Jesus, physically and emotionally. He KNEW that not everyone would accept His AMAZING gift. And He even KNEW that Jesus would struggle with it at one point. Yet He gave us this gift anyway.
"Love is patient", "It is not easily angered, it keeps no record of wrongs". Think back to ALL the times Israel, as a nation, sinned against God. He was patient with them and kept calling them to repentance. Not because He was a narcissistic dictator but because He knew what was in their best interest. Sacrificing your children to appease a god! NOT in anyone's best interest. He knew once they started down the wrong road that they were going to excuse anything. After many steps down the wrong roads, He did call them back with discipline. They faced military defeat, slavery, and even near extinction as a people as a consequence of their sin. But God ALWAYS brought them back out of it. When they sought Him again He answered. He DIDN'T say, "Nope, you screwed up too many times. You've run out of chances." Even though, as a nation, they have rejected His GREATEST gift, He hasn't given up on them. We will see that "one more chance" call for Israel when we get to Revelation. He is the epitome of patience and forgiveness! "It always protects, always trusts, always hopes, always perseveres."
Those who have been forgiven have NO need to worry about punishment for their past sins. "There is no fear in love, but perfect love casts out fear. For fear has to do with punishment, and whoever fears has not been perfected in love." He doesn't even "remember" our sins any longer. Not that His memory is faulty but that He chooses to bury them under the blood of Jesus. He treats them as if they never happened. Hopefully we don't. Yes, we are free from the punishment of them but we are supposed to take the lessons learned from the experience with us. If not, we would be expected to repeat the same sins on a daily basis. Whoever does not learn from the past is doomed to repeat it.
Life is NOT some giant game of Whack-a-mole where every time a sin pops us we get hammered. God is not poised in Heaven waiting for us to screw up. Instead He watches us with tenderness as we walk through this world, ready, willing and able to reach down and help us when we call out to Him. He won't step in uninvited and take over our lives. But He is more than willing to show us the BEST way to go if we will let Him.
BEST OF ALL He is willing to do this on a continual basis for ANY who will allow Him to. The Creator of ALL THINGS is willing to have a day by day, minute by minute, relationship with EACH of us if we let Him! He holds ALL the answers. He knows ALL the best roads for us to walk. And He is willing to share this information with us when we ask.
Does this mean our lives are trouble free and perfect? NO. There is still sin in this world and our lives bump up against it in those who choose not to let Him have this kind of relationship with Him. He didn't force us into a relationship with Him, so He won't force others on our behalf. So we will "rub elbows" with those who not only don't want Him in their lives but hate us for our relationship with Him. They will see us, and treat us, as the enemy. That includes Satan himself. He will treat us this way too. But "He who is in you is greater than he who is in the world" (verse 4).
Our relationship with Him doesn't end at the end of life here on earth. Whatever we endure here is NOTHING compared to what awaits us. But our relationship has to originate here for there to be one beyond the grave. If we choose to ignore Him in this life He has no choice but to abide by our wishes in the next one. Out of love that "is not self-seeking" and "does not dishonor others", He has to allow our choices to stand. "Love does not delight in evil but rejoices with the truth." His desire is for ALL to come to have a relationship with Him in the truth, but He won't force you to BECAUSE He loves even those who choose to reject Him. Will you choose to accept His love?
Father God, THANK YOU for continuing to hold out Your offer of love to me, and to anyone else who would accept it. Thank You that You spoke loud enough to get my attention and that You were right there when I finally sought You with my whole heart. Thank You that You were there even before that, still calling out to me with the truth.
Thank You Jesus that there is not a "load limit" of the cross. You don't count up how many times I have requested or required forgiveness and say, "Nope, that is once too many." Don't let me ever try and find that limit though either. I NEVER want to NEED a "spanking" from God. The "time out corner" is MORE than enough for me!
Thank You Father that I don't have to "duck" every time I walk by, expecting You to be in "the spanking mood" because of the kind of day You've had. I can trust You to ALWAYS react in love; even when that love is borne out in justly earned correction. I NEVER have to fear Your correction because I KNOW that it ALWAYS results in the BEST for me. Thank You Father for that assurance! I want to love like You.