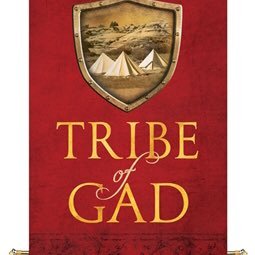 More genealogy. It's the tribe of Gad's turn to open their rolls to us. Let's see what lessons we can take from them today.
And the genealogy continues. I know! It's all part of God's word but that doesn't make it any easier to follow or feel excited about. But it is HIS word so we are going to explore it anyway. He never fails to bring bless us with something when we are faithful.
Gad is another tribe that settled on the eastern side of the Jordan. Two and a half tribes took this option; Reuben, Gad and half the tribe of Manasseh. I have a few questions about that last group but I will hold them until tomorrow.
The tribe or Reuben were the ones to ask Moses if they could take the newly cleared land but the other two groups came on board right away when the answer was favorable. Reuben did it because they were shepherds and the terrain was good for sheep herding. Why did Gad choose this side? Were they big shepherds too? MANY of the other tribes had sheep but they went on across the Jordan. Was it a 'first one to ask' situation? Were the ones who stayed fearful they wouldn't find anything as good as what they currently saw? They had to go across and fight alongside their brothers. Did they regret their decision once they saw what they passed on? Brings to mind the game show "Let's Make a Deal." No trading for what is behind curtain number 2 allowed. You get what you get and you don't throw a fit.
I suppose I should get on with what we came here for today; the genealogy of Gad. We honestly get very little of the actual lineage of Gad. We follow one line, bottom up, from Buz to the seven sons of Abihail. We also follow one line for three generations who were chiefs in Gilead. And we have an original list of those in charge in Bashan starting with the chief, Joel. I found that name more than familiar from our time with Reuben but we know they are two entirely different people. A descendant of Reuben would NOT be a chief in Gad.
Yes, I took the names into Excel to see if I could make any more sense of them. No such luck. I even Googled the sons of Gad to see if the names we have connect up for us. No such luck there either. His sons were Ziphion, Haggi, Shuni, Ezbon, Eri, Arodi, and Areli. We don't have any of these names listed but they could have been called by something else too.
What we do see from our reading instead is conquests of all three of the tribes who stayed on the eastern side of the Jordan. We see what they contributed to the strength of Israel. They may have been separated by a body of water but they were STILL Israelites. And they knew where the power of Israel lay; in her God.
The war mentioned pitted 44,760 "experts in war" (verse 18b) against more than 100,000 men. This 100,000 men are the number of men taken alive during this conflict, NOT the total number who marshalled against these men in battle. They won not because of their superior forces or battle techniques but because they called on the Lord for help. "…for they cried out to God in the battle, and He granted their urgent plea because they trusted in Him" (verse 20b). The spoil was great in this battle and I'm sure it was shared by all who attended. I wonder if their brothers crossed back over the Jordan to assist them. We aren't told. What we do know is that the One who can save, saved them. "And they lived in their place until the exile" (verse 22b).
I'm sorry to say that they didn't always call on the Lord, but that is a story for another time. For today that is what I want to focus on. I want to remember a people who, when confronted by physically impossible odds, didn't run but turned instead to the Lord. They turned to the One they KNEW could help them. They relied on Him to do what they themselves couldn't. They let Him fight their battles. They didn't do it by sitting back and watching Him mobilize the trees but they gave their hands and feet into His employee. They trusted Him to put the force needed into their swings of their swords. They lent him their arms, their feet, their eyes, their senses and their reflexes. They gave themselves wholly into His hands. And He used them to do mighty things!
Father God, use me! I want to give You ALL of me to do with me what You will. I want to be Your hands and feet. To be the voice that cries out for You, calling Your people back to You. I want to be Your hands that comfort the sick and weary. I want to be Your (electronic) feet that carry Your word around the world. I want to be whatever You need me to be, when You need it. I TRUST YOU WITH ALL MY HEART and turn to YOU ONLY for my salvation.