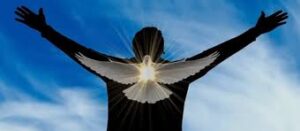 David sings a song of praise unto the Lord for His goodness. This is just one of MANY songs David will sing. This one is FULL of praise.
The Ark of the Lord has finally reached the Tent David erected for it. The sacrifices and offerings have been made. David has appointed the different Levites to minister before the Ark; some in Gibeon and some in Jerusalem. I have a feeling David broke out in this song before everyone sat to eat.
When the Ark entered Jerusalem David was whirling about in dance, wrapped up in the Spirit of the Lord. He would have had to reign in his exuberance for all the formal parts of the ceremony. David would probably not be dancing during sacrifices and speeches. But I'm betting that the joy of this day wasn't far below the surface. It wouldn't take much for David to throw himself into honoring the Lord. Here is a fine example of that.
David breaks out in song! His heart is overflowing and he can't keep it inside any longer. I wonder what Michal thought of that. She threw a fit about him dancing. Now, he is singing before ALL the people.
As king, David was officially in charge and as such had the right to direct the proceedings. But I'm certain that he wanted to make SURE God was in charge. He didn't force his agenda. Instead, he let the Spirit lead. The Spirit of the Lord descended and David sang!
I hate to do this to you (and You) but I have to put a pin in it here. We will take up tomorrow with the words that the Spirit chose for David.
Father God, forgive me please for falling asleep in the middle of our time together. You know my heart and the needs of my body. Help me to sleep well tonight and to wake well in the morning.