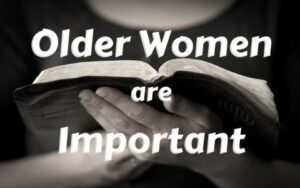 Paul calls for Titus to encourage generational examples of godliness. I'm wondering if this applies to chronological age or spiritual age. Titus is called to lead by example and authority in this respect.
We have MORE than established that we are saved by grace and faith instead of by works. But works have their place. Paul is calling for the "elders" to show a good example of faithful works and to teach the "younger" believers.
Faith in Jesus is the beginning of a relationship with Him. As that relationship grows so does our desire to live like He called us to. Our outward change is proof of an inward change. Where there is no outward change there is no real inward change or real relationship. That is why God says to those who claimed to know Him, depart from me for I never knew you.
An outward form of godliness is also useless when there is no inward change. Works mean NOTHING without the foundation of faith. Jesus wants "people for His own possession who are zealous for good works" (verse 14c) but FIRST he wants to "redeem us from all lawlessness and to purify us for Himself" (verse 14b). Without the FIRST the second holds no power.
"For the grace of God has appeared, bringing salvation for all people, training us to renounce ungodliness and worldly passions, and to live self-controlled, upright, and godly lives in the present age, waiting for our blessed hope, the appearing of the glory of our great God and Savior Jesus Christ" (verses 11-12).
Without the first, the second is not only unprofitable but impossible. With Satan as our master we have no hope of godliness. It is all pretence and self-serving. With God as our Master, Father, and Savior, we learn to serve, not for our gain but for the gain of others. We serve out of love born from the gift of His love.
Each of the "works" being called forth from the "elders" is focused towards demonstrating God's love in their lives. "Older men are to be sober-minded, dignified, self-controlled, sound in faith, in love, and in steadfastness" (verse 2). This man thinks through the concerns brought to him carefully. He doesn't seek only his own good in the decisions rendered, but the good of all involved. He puts others' needs above his own. He shares his faith in Jesus and the love he received on a continual basis.
"Older women likewise are to be reverent in behavior, not slanderers or slaves to much wine. They are to teach what is good, and so train the young women to love their husbands and children, to be self-controlled, pure, working at home, kind, and submissive to their own husbands, that the word of God may not be reviled" (verses 3-5).
I was just thinking about this list and how many women, because of economic concerns have to work outside the home. This list didn't preclude such activities. It simply states that we are to "work at home." To me this means that my home life/work is not to suffer because of my outside profession. Even the virtuous wife of Proverbs works beyond her home. But her home is always taken care of. Many "young women" need to practice this president, and I'm including myself in that group (even though I'm not considered young anymore).
It is so easy to be overwhelmed by our outside "jobs" that our main responsibility suffers. I have learned by experience that when we put God FIRST He helps us make time for everything else that needs to be done. He also helps my attitude so I can serve my family with love instead of out of duty or grudgingly. I need that attitude adjustment over and Over and OVER again, especially on stressful days. I personally have found that if I start singing praises to Him my attitude immediately lifts to its proper place. It also lightens the heart of my husband. (My secret weapon, for both of us.)
Once my husband asked me to write him a song book with all the songs I sing so he can follow along and sing too. The problem with that is that what flows out of my mouth has no prescribed order. He would be forever flipping pages and the spontaneity would be lost. I sing what flows from my heart or what I need at the moment.
Father God, thank You for all my earthly teachers. My mother and grandmothers, who showed me how to love my husband and care for my children. Thank You for all the other godly women You put in my life who showed me how to live a self-controlled life. Thank You for Your remarkable changes You have worked in my heart! Without those changes, I would still be a rebellious and self-centered child. You taught me patients. You gifted me with wisdom and understanding. They were not easy lessons but SOOOO worth it!
Thank You for music!!! Music in my heart, music on the radio, and music that flows out in my times of need. I receive life from the words of the songs You placed in my heart. They sustain me and redirect my heart. Thank You for returning that music to me and helping me realize how precious it is.
Help me be the wife You called me to be. I will not even attempt to be the "virtuous wife" of Proverbs! She is an ideal I know I can't attain. But help me be a wife after her kind. One who is called blessed and blesses her family with her actions.