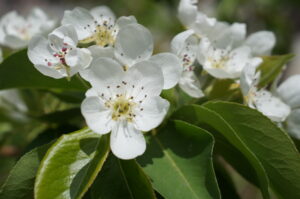 NONE but You is the answer to every question our author posts today. These are also the kinds of questions God Himself asked Job. They have but one answer.
Man thinks he is SO smart and SO capable. And, yes, we have amazing inventions designed by man to help our lives. We have technology unheard of 100 years ago. We have medicines that can cure and even prevent diseases. But we are still limited. No matter how wise or knowledgeable man becomes, he is STILL the creation; not the Creator.
We have learned to use the things God has created. We have harnessed the wind with windmills and turbines, but we cannot make it blow where and when we want or direct its strength. Our rivers contain damns designed to hold back the flood waters and generate electricity,  but we cannot control the rain that fills the streams, rivers, lakes, and oceans. The trees that give us food to eat have been 'tamed' and cultivated to yield even more, yet we have no power over the living process by which they grow and produce. We also have no power over when and where the lightning strikes which burns our forests.
In ALL man has learned to do, he has not, and never will, surpass His Creator. NONE of the gods man has fashioned even come close. Even the gods of the Greeks and Romans are a poor substitute. They were reputed to control only ONE portion each of God's creation. It took looking to numerous gods for help. And NONE of them really had power to act or carry out their follower's desired answer to prayer. Everything they ever 'did' was based on coincidence.
Our God controls ALL of creation for He is its Creator. When He answers there is NO mistaking it. Granted, not every answer is as clear and distinct and some that come to my mind. I'm going to throw a few out there and see if you remember them too.
God parted the Red Sea.
God parted the Jordan River not once, not twice, but THREE times!
ALL these partings left DRY LAND for those of the Lord to cross over on.
Jesus calmed the storm with just a word.
The fleece of Gideon was soaking wet while all around it was dry and the fleece was dry while all around it was wet.
Water poured forth from a rock on two occasions with enough to give relief to almost 1,000,000 people and their animals.
A man who had been dead for 4 days walked out of his grave.
The ground opened up under the man who God had identified out of ALL of Israel for his sin.
He SPOKE and everything in creation came to be.
I could go on for days! But you get the picture. NO ONE BUT GOD could do these things. THIS is the God I serve! THIS is the God who calls me His child!!!
THAT is the most amazing of all His acts! That He would even choose to make man, KNOWING what man would do. And that He would love man enough to make a way to restore the original relationship.
Father God, You didn't HAVE to do any of these things. You CHOSE to do them for man. You showed Your love for man in each of these acts. You showed power that NO OTHER god could EVER come close to. NOT a coincidence but the very hand of my Creator, reaching down into the lives of His children.
THANK YOU too for all the times You have reached down in my life and left Your 'fingerprints' all over my situation. That would be another LONG list. I'm certain there are times when I didn't even know You were at work in my life. For EACH & EVERY moment Father, THANK YOU!
I know You already have this in Your plan but I'm going to ask it anyway. Please continue to work in my life and help me to see Your hand as it moves. Show me Your 'fingerprints' as You press them into my 'clay'. There is NONE like You!!!