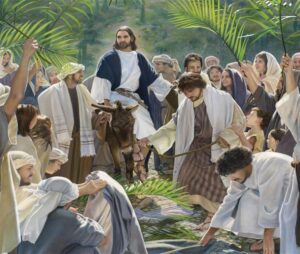 This is the week that EVERYTHING in creation has been leading up to. The week where Jesus becomes the Savior of the world. The event of reconciliation.
I have been wrestling within myself whether to continue on with the book of Psalm or to pause and look at this special week. I wasn't sure if I had done this before but it felt like I had. I tried doing a search for Passion week on my blog but didn't find what I was looking for. Next I did a search on my computer for such posts. I found them.
In April 2019 we finished the last passage of the book of Revelation. I wasn't ready for our time together to end. I decided to go back to the beginning; to Genesis. But the timing was perfect for taking a couple of weeks to explore the Easter season. I did this in 15 different posts. Because of migrating my site from one host to another, those posts got lost.
I want to take this week to repost those 'missing pieces' and also take another look at this final week of Jesus' earthly life. I know it will be a LOT of reading if you decide to go through everything I post. I won't be able to do it in the same order I originally did as I had time before the Passion Week to explore a few concepts before Jesus reached Jerusalem. I will try and keep my new posts short in order to limit the amount of reading each day. I will also put links to the other posts for the day in the new ones. With all this said, let's begin our journey through Passion Week.
Today, we remember the day Jesus entered Jerusalem at the beginning of His final week. He was hailed by those present as the coming King. Everyone around Him were participating in the event. MOST were hailing him. The Phrases were rebuking Him. His act polarized the people even more. This was necessary for the coming conclusion.
Something I wanted to comment on too is that fact that all four gospels mention Jesus' entry into Jerusalem that day. There are few events that appear in ALL the gospels but this is one of them. Different stories were chosen by the writers because of each gospel's intended audience. THIS story transcends audience lines! It is relevant to EVERYONE. Why? Because it identifies Jesus as the Messiah and sets Him in His rightful place. He IS King of ALL; not just the Jews.
This event also highlights for us the attitude shift in the crowd over the whole week. From "Hail the King" to "Crucify Him" in a few short days. No matter what waited in the people's hearts, He came anyway. He came to stand alone for each of us.
Lord Jesus, THANK YOU for being my King. Thank You for coming, KNOWING what lay ahead. I wish I had been there to lay palm branches in Your path. To give You honor and glory that day. I pray taking this 'trip' with You 'down memory lane' is honoring to You. Let me lay my expectations at Your feet instead. Take me where You will on this journey.
Previous posts reposted:
Passion Week Position looks — looks at the different possible timelines proposed for Jesus' crucifixion.
The Donkey — looks at why a donkey was chosen to carry Jesus into Jerusalem.