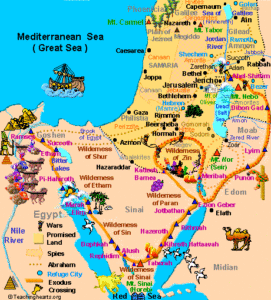 God had Moses keep track of every place the Israelites camped along the way. He wanted an accurate record for the people to look back on.
One problem we face is that the names of the places have changed over time and their exact locations can't be certain. But then that isn't a horrible problem though. If we had the EXACT spots identified I have no doubt that people would begin to worship these places instead of the God who carried the people through them. We often get distracted from our Creator when we have some creation we can lay our hands on.
During our journey with Israel I wondered about the spots they stopped and how long they stayed in each. I don't get the answer to my second question but I do to the first one. I wanted to break down the journey into stages, for my own reference but I failed miserably.
I have a fair grasp on the before the Red Sea section, and Red Sea to Sinai section. I know Israel spent about nine months at Sinai building the Tabernacle. I also know that they stopped at Kadesh to send out the spies. In this narrative there are 21 stops between Sinai and Kadesh. But the timeline from where Kadesh is mentioned here is too short. I have no doubt that they stopped in Kadesh a second time as Miriam was buried there. So what stop was CLOSE to Kadesh in this list? That I cannot solve.
Something that I did learn from this list is that the people did not inhabit the plains of Moab for a long time. Aaron died in the fortieth year of Israel's wilderness journey. Eleazar was high priest at the time of the incident with the women of Midian.
After Aaron's death they camped in eight more locations before Joshua would lead them across the Jordan. This means that they couldn't have set up camp for very long in the cities that they conquered. They were quickly corrupted by their neighbors. This was also the final end of the first generation who were denied entry into the Promised Land because of their rebellious hearts. One would hope and pray this new generation would be made of people dedicated to God's plans.
So what is our take away from today's reading? For me, it is to stop trying to pin everything down. I don't have all the answers and never will, this side of Heaven. I have to trust God to show me what is important for me to know for my life. I have to lean into my faith in Him. Stop looking to the creation and focus on my Creator instead. This whole journey with Israel was a miracle from start to finish. About a million people on the move being cared for daily by the God of the universe. They couldn't or wouldn't see it for the miracle it was. They rejoiced at each miracle but quickly forgot them too. "What have You done for me lately" attitude. They were never satisfied and always longed for something else.
The pillar of God led this group of people to each and every one of the stops mentioned here for a reason and for a season. There were lessons to be learned at EVERY stop. The first generation didn't learn them and paid the price. The second generation has the mission to take it from here with God firmly in the lead.
Father God I pray my journey hasn't been as fraught with grumbling as Israel's was. THANK YOU for never giving up on me! I'm pretty sure I deserved to be told "No" to Your promises too at one time or another but You kept Your arms open to me anyway. I want to remember the lesson of today; keep my eyes on my Creator instead of the creations. I want to remember ALL Your miracles and blessings in my life. I want to shut my "grumbling spirit" in a box and burn it to cinders. Lead me Lord where You will and help me to learn the lessons in each place You take me. I wish I could see Your leading as clearly as Israel did. Open my eyes Lord so I can clearly see.