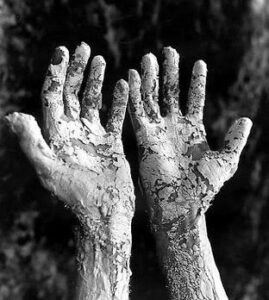 Miriam and Aaron confront Moses. They think he is too big for his britches and they aim to knock him down a peg or too.
Miriam was the sister who watched over Moses while he lay in his basket of reeds. Miriam was the one who ran and got a "wet nurse" for Moses when Pharaoh's daughter found him. Miriam is also the one who took up the tambourine with dancing and singing after they crossed the Red Sea. Miriam is Moses' older sister.
Aaron is the brother whom God called to be the mouthpiece for Moses to Pharaoh. Aaron is the one who made the golden calf while Moses was busy with God. Aaron is the one who God appointed and high priest for the people. Aaron is Moses' older brother.
Moses is the one whom God called at the burning bush. Moses is the one who God spoke the words to be delivered to Pharaoh. Moses is the one who spent more than a month on the mountain top with God. Moses is the one who stood up for God in front of all of Egypt and Israel. Moses is the go between for God and the people of Israel. Moses is Aaron and Miriam's baby brother.
Jealousy seems to have reared its ugly head in this family of siblings. Miriam wants a bigger role or more credit. I have no doubt that this was her idea. Aaron already had a place where he was used by God and was useful to God. Miriam felt left out. "Why does Moses get all the credit and the cushy jobs? Why can't it be me or you, Aaron, for once?"
Miriam knew the place of women in this society. She apparently had no husband for her to work through to receive the recognition she so deserved. So she decided to live through her brother Aaron. She would convince him to stand up to Moses and demand part of the glory, and work load if she HAD to.
Notice here that we are told that Miriam and Aaron looked for and found a reason to challenge Moses. He had married a Cushite woman. He even had children with her. She was NOT of their line and could possible pollute him. THEY were true Israelites. They should have at least shared in Moses' position.
Moses didn't argue with them. He didn't defend himself. He didn't even remind them of their failings along the way. He remained silent. But God didn't.
Moses never thought himself worthy of God's calling. He never asked to be the one to bring God's words to the people or to Pharaoh. He did everything he could think of to convince God to choose someone else. He also cried out to God on MULTIPLE occasions because the task God called him to do was too difficult.
God could see Moses' heart. He knew Moses' heart and how humble he was. None of the special times they shared together puffed Moses up. He was a single minded in his dedication to God and getting the people to follow God's laws.
God usually spoke only with Moses. Recently though God had put part of Moses' anointing on 70 others who would help carry the burden of the people. Maybe this was what prompted Miriam to want part of Moses' standing. These men prophesied in the hearing of the people but God didn't call them up to the mountain or speak directly with them.
Listening in on the sibling's conversation, God weighed in on it. He called the three of them to come to His house. HE would settle this once and for all. He spoke loud and clear. He gave them His reasons and then He gave Miriam a resounding smack to emphasize His point.
Moses was the only one since Abraham that God spoke with directly. Moses had seen the form of God. Moses had been allowed intimate time with God that even Abraham hadn't. And Moses was the one GOD had chosen. Now HE would answer Miriam in no uncertain terms. There would be NO doubt about His answer. And Miriam would never again make this mistake!
The immediate aftermath speaks highly for both brothers. Aaron immediately repented of their sin. His Aaron's lack of punishment is why I surmised that Miriam had been the driving force. His immediate response wasn't to blame her and try and distance himself though. He accepted responsibility for both their actions and prayed for forgiveness for both of them. Moses immediately pleaded with God to save his sister; even after all she had done to him.
God showed His love for Moses by promising relief for Miriam AFTER she served out a one week sentence for her attitude. And she would be required to fulfill the full extent of His law during her sentence. She was to be treated as any other leper for the duration of her punishment.
I don't know if God was gracious in not sending the people out before Miriam's punishment was complete of if Moses pleaded to stay where they were until her time was done. Either way, the camp waited until Miriam returned before making the next leg of their journey. She was protected even in her punishment.
Father God, You have been SO gracious to me over my life. MANY times I have earned a punishment much worse than I received. I have also been protected while serving those punishments. I have never been so obviously outed for my sin as Miriam was, but some of my sins were plain to see for anyone watching. You never left me there though. You worked with me then restored me to the RIGHT place You prepared for me. THAT is where I want to serve. Not in the place of another but right where You designed me to be.
Thank You for teaching me to stop over reaching and to be content where You put me. But this contentment also applies to walking through the doors that You open before me. There too is where I'm supposed to be. Help me Lord to see the doors YOU open and not to try and pick the locks of the ones You have shut. Show me where YOU would have ME. Help me be satisfied and filled with Your presence wherever You place me in Your body.