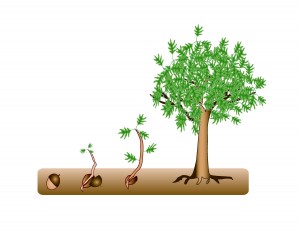 Jesus is continuing to teach in parables today. Mark is giving us another parable about seed and the Kingdom of God. This one is a little different than any Mathew shared with us.
Jesus begins His story with the scattering of seed on the ground by a farmer. Jesus doesn't focus on the work the farmer would be putting into the harvest, but focuses on the seed itself. Seeds are amazing. Each small little seed (some not as small as others) contains the blueprint of the fully grown crop in it. Science has been unable to unlock the secret of how all that knowledge was placed there. We are only able to observe its wonder.
Our farmer apparently does the same. "He sleeps and rises night and day and the seed sprouts and grows; he knows not how" (verse 27). The farmer doesn't have to understand how the seed knows to produce the blade, then the ear, then the full grain. He simply has to provide for the seed's needs as it grows; good soil, water, fertilizer, and weed control.
Jesus compares the Kingdom of God to this seed. The word of God contains all the information to grow the mature Christian. I'm using that term to represent, not what our society today classifies as a "Christian" but, the true believer who strives to imitate Jesus Christ in all they say and do. The Bible contains the blueprints for the blade (Romans 10:9 "If you confess with your mouth that Jesus is Lord and believe in your heart that God raised Him from the dead, you will be saved."), the ear (James 2:14-26 "…For as the body without the spirit is dead, so faith without works is dead also."), and the full grain (2 Timothy 4:7-8 "I have fought a good fight, I have finished my course, I have kept the faith: Henceforth there is laid up for me a crown of righteousness, which the Lord, the righteous judge, shall give me at that day: and not to me only, but unto all them also that love his appearing."). Just like the seed, it needs to be planted into the soil of your life. It also needs to be watered, fertilized, and kept free of weeds to produce the best crop.
I water my seed through my tears. My tears fall for several reasons. They flow when I recognize my sin and how that sin hurts Jesus and separates me from Him. They bubble out of me in times of great joy. And they drown me in times of loneliness. Jesus is there for each one that falls. He brings me comfort and growth from each episode. He holds my tears.
I fertilize my seed by digging deeper in His word and spending time with Him. The more I come to Him and ask Him to help me understand what He authored, the more nutrients my seed has to grow with.
I weed by removing things that come between me and my Lord. Things that suck my attention and time up, without giving me a positive return. No, I don't believe I have to spend every hour of my life steeped in the bible, but if I am so busy with everything else in life that I never have time to read my bible, then something has got to go. One of my biggest "time suckers" is Facebook games. I find enjoyment in playing them and have to be careful to limit my time there.
Father God, thank You for the blueprint You gave me. I am forever learning new facets of those plans. I would be totally lost without Your plan. Please remind me every day to consult Your plan and to put it into operation in my daily life. Not just during bible study time, but in everything I do. Only by putting into practice the things You show me can I have success in my life. My "harvest" depends on it.