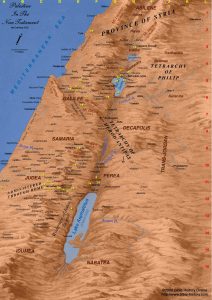 We are joining Jesus the following morning after His marathon healing at Peter's house. Judging from Luke's narrative it was morning before Jesus was able to break away from the crowd.
Jesus kept going all night with the people. He HAS to be exhausted when morning finally arrives. He is finally able to sneak away by Himself, for a few minutes. But the people are like bloodhounds after a porterhouse steak. They sniff Him out.
This group of people had witnessed Jesus' power through the night. I don't believe He left before everyone who had a need was ministered to. But the people still wanted more. They wanted everything He had to offer, including more teaching. Jesus loved the people and cared about their future, but He had other places He needed to be too. This wasn't the whole of who He was sent to. He needed to reach people from the Mediterranean Sea to the eastern side of the Jordan River; from Tyre down to Bethlehem and the wilderness beyond it. This was a lot of territory and a huge amount of people. But He would reach them.
Jesus would return to this group of people throughout His ministry as Capernaum was His home base, but it was time to set out to reach the lower portion of Israel; the area of Judea. Luke shares that when Jesus went there He taught in their synagogues as well. He didn't change His practices or paths to reach out to people because He changed His location. Later on, as His fame grew He would have to alter His approach but for now He kept going to the meeting houses of the Lord.
Father God, the people were starving for Your miracles in their lives. They had gone for more than 500 years without hearing from You directly. Now Jesus walked in their midst, just like one of the prophets of old. They were ecstatic to see the works He was doing, at least for a time. I can relate to them to a degree. Sometimes I feel like I have been running on empty spiritually for a long time, then something breaks and I'm flooded with Your power in my life. I want to stop right there and soak every millimeter of it in. I want to stay in the garden; just the two of us. But that's not where You want me to live. You want me to come daily for a fresh filling but to leave afterwards and share what You have brought to me. I'm not supposed to hoard Your blessings and lessons but to take what I learn and share it so others can be blessed too, even if it means recreating that garden spot with words and pictures.
Thank You for the garden times. Thank You that You don't send me away wanting, but full and overflowing. You meet my needs so I have enough to share. You don't make me totally "want free" because then I would begin to think I had no more need of the garden. Keep me wanting more of You Lord. Fill me but with Your presence and make me hungry for even more. Thank You for the opportunities You have brought to me to share where You have taken me so far. Keep me searching Your word and finding new treasures every time I look. "Gold Fever!"