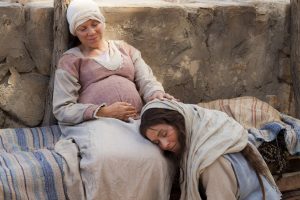 After hearing from Gabriel and receiving God's personal gift, Mary heads off to see Elizabeth as fast as she can. Gabriel told her that Elizabeth had received a miracle too. This is the perfect person to share her news with.
Mary leaves the garden after her intimate time with the Lord. She goes to her room and begins packing for a journey. She has decided to spend at least the next three months with Elizabeth. She wants to be able to care for her until she delivers and help her with the baby afterwards. Mary decides that she will bring all her clothing with her, including her wedding dress that she is working on. She still needs to complete it before her own wedding.
Mary packs her two dresses and undergarments. Then she picks up her basket containing the pieces of her wedding dress and prepares to pack them, but then she hesitates. "Wait. What will happen when Joseph finds out I'm pregnant? Will he still marry me?"
Mary then remembers the greeting from the angel; "Greetings, O favored one, the Lord is with you!" (verse 28). She hangs onto these words. She knows with all her heart that since the Lord is with her He will provide even for her marriage. She quickly tucks her wedding basket into her belongings.
As soon as she finished packing her personal items she goes into the kitchen to prepare food for the journey. As she is packing these items she is thinking of how she will travel to Elizabeth's home. The journey is about 100 miles and it NOT safe for a woman to travel alone. Mary decides she will ask her cousin who is a spice dealer. He has caravans coming from the area near where Zechariah and Elizabeth live. Maybe she could travel with one of them. Mary decides to take a small portion of her dowry to pay for her passage.
Once her packing is complete, Mary hurries to her cousin's shop. Her cousin Samuel greets her warmly. "Good afternoon Mary. What can I do for you today? Perhaps you would like to purchase some spices for your wedding trunk?"
I would like to purchase some spices from you, but right now I have another request I would like to make of you. I am in need of your assistance in arranging travel to the home of Zechariah and Elizabeth as soon as possible. I am wondering if you have a caravan going that way in the near future and if I could purchase passage with them."
"I actually have a caravan heading that way first thing tomorrow morning. I will speak to the caravan leader to see if he has room for you. Will Joseph be accompanying you?"
"No, I will be making this journey alone."
"Is there a problem between you and Joseph? Are Elizabeth and Zechariah alright?"
"Joseph and I are fine. He is busy with preparations and I don't want to take him away from that. I just learned that Elizabeth is expecting a baby and I want to go to her to offer my help."
"Elizabeth?! Really? That's exciting news. As my gift to her I will pay your passage with the caravan."
"Oh Samuel, you are so kind. Thank you for your gracious gift. I will be sure to share with Elizabeth the news of your generous gift. What time should I arrive tomorrow?"
"Be here by dawn. The leader likes to start off as soon as day breaks. He will need to load your belongings before heading out."
"I'll see you in the morning. Thank you again for your generosity."
Mary then goes to the home of Joseph. She is not ready to tell him about her pregnancy yet but she does need to let him know that she will be traveling to Elizabeth's home and about how long she will be with her. Truth of the matter is that she doesn't know how to tell him about the visit from the angel and all that it brought. She is hoping that Elizabeth can help her figure that part out.
Upon reaching Joseph's home Mary greets Joseph's mother, Abigail, in the garden where she is hanging the day's wash. "Greetings mother. May I assist you in your task?"
"Why thank you Mary. That would be most appreciated. So what brings you to our home on such a fine day?"
"I need to speak to Joseph today. It is a matter of some urgency. Do you know when he will be home? Also would you serve as our chaperone during our visit?"
"Is something the matter?"
"No. I have just received word that my cousin is expecting her first child and I am planning to got to her and help her in any way I can. She is very advanced in age and could probably use a young pair of hands to lift some of the work from her shoulders so she can conserve her strength."
"That is very generous of you Mary. I would be more than willing to offer my services as chaperone. I expect Joseph home at any time. You are welcome to wait with me if you like."
"Thank you mother. I would like to do that. May I help you with your duties while we wait?"
"Always generous to a fault. I believe I will accept that offer."
The women complete the wash and begin preparing the family's dinner before Joseph finally arrives home. Joseph enters and sees Mary working in the kitchen with his mother and a smile spreads across his face. Mary feels his eyes on her and looks up at him. She too smiles as their eyes meet.
Abigail greets Joseph. "Welcome home son. Mary has something she wants to discuss with you. We will be finished here in just a few minutes. Then you two can sit on the porch and talk."
Mary and Abigail quickly finish the last of their work, wash their hands and comb the stray pieces of their hair back into place.
Mary and Abigail step out onto the porch. Abigail withdraws to a corner of the porch while Mary and Joseph take two seats facing one another.
"Joseph, I know this is sudden, but I just learned that my cousin Elizabeth is pregnant. I need to go and be with her during the remaining portion of her pregnancy. She is quite old and I'm sure she is in need of much assistance during this time. She is already six months along, so I would be gone for three or four months."
"I remember you mentioning Elizabeth and Zechariah. I thought they couldn't have children?"
"It is a miracle Joseph and I want to share in it with her."
"How will you get there? Do you need me to take you?"
"I have asked my cousin Samuel for permission to travel with one of his caravans. He has one leaving for the region of Elizabeth's home tomorrow morning. He has told me that I am welcome to join it. He has even agreed to pay my passage as a gift to Elizabeth."
"It sounds like you have everything worked out. I know how generous you are Mary and what a big heart you have. Are you sure you need to do this? Have you asked God about this journey?"
"Yes Joseph I have. I feel His hand directing me quite strongly."
"Who am I to stand in the way of God? I will miss you while you are gone. Please send me word when the baby is born and when you will be home. I'll continue working on our home. I hope to fill it with babies of our own."
"Me too Joseph. I'm taking my wedding dress with me to work on in my spare time."
After a quick touch of the hand Mary leaves for home. Joseph walks her to the gate.
Mary has a hard time sleeping because of the excitement building inside her. "I haven't seen Elizabeth in some time. I wonder how she is doing. What kind of help will I be able to offer her? How will I tell her about my own miracle?" Mary decides to pray about her trip again. God's peace settles on her and sleep finally finds her.
Mary's travels with the caravan are remarkably uneventful. For this she is very grateful, to the caravan leader and to God. They arrive in Hebron after traveling for a week. Mary is overjoyed that the journey is over. Now it's time to face Elizabeth.
Butterflies inhabit Mary's stomach as she walks the last leg of her journey. She can see Elizabeth's house from here. "No turning back now. Adonai, please give me strength and peace. Let me be a blessing to Elizabeth." As Mary enters Zechariah and Elizabeth's home she calls out to Elizabeth. "Greetings cousin! I hear you have good news."
Elizabeth lets out a squeal of joy and holds her hand on her stomach. She quickly walks to Mary and embraces her. Elizabeth's eyes are shining and her face nearly glows. Mary recognizes the same Spirit of God emanating from Elizabeth that she herself encountered only a week ago. Elizabeth removes all Mary's uncertainties about how to tell her what has happened when Elizabeth looks deep into Mary's eyes. In a loud and clear voice Elizabeth says, "Blessed are you among women, and blessed is the fruit of your womb! And why is this granted to me that the mother of my Lord should come to me? For behold, when the sound of your greeting came to my ears, the baby in my womb leaped for joy. And blessed is she who believed that there would be a fulfillment of what was spoken to her from the Lord" (verses 42-44).
Tears fill Mary's eyes. She is indeed blessed. She didn't need to worry. God had taken care of everything. From the caravan, to Joseph, to even Elizabeth. She knew that He would continue caring for her, as long as she lived.
Father God, You showed Mary quite clearly Your hand at work. I know that what I wrote may be nothing like the actual events, but they are what You showed me. I love how You fill in the blanks in my imagination.
I know You cared for Mary's needs from all the other stories You placed in Your word. You sent her reassurance from Elizabeth, along with praise for actually trusting You. From Joseph You sent her acceptance, protection, and a family. From Jesus You provided care for her after the death of Joseph. Through John You would provide for her after Jesus' death. You never left her on her own.
You don't leave me on my own either. My "provision" from You is not as dramatic as Mary's was, but it is evident none the less. You provided direction in my schooling, a home for us and financial assistance to keep it, jobs when schooling was complete, and even family as a resting and safe place in between. I never would have made it through on my own. You even brought me peace, a little more each day, which sustained my life. Without You I could do nothing.