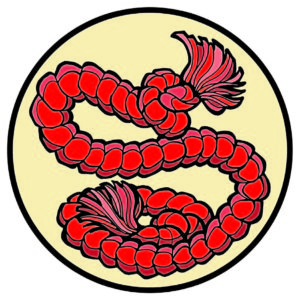 Red Cord reading: Joshua 2:1-21
Rahab enters Jesus' family tree from a most unlikely place. She was a prostitute in the town of Jericho. She fully believed the stories of the Hebrew's God and wanted protection from Him.
Rahab's life was anything but perfect. No matter how much money or prestige she may have gained, she was afraid. I believe she was also empty. She had to keep people at arm's length in her profession. We don't know how she wound up in this profession but it is possible that she was sold by her family into it. Even in her emptiness though she thought about her family. I wonder if she would have taken such a risk if it was only for herself.
When the spies came to Rahab she welcomed them into her home. I will guarantee she knew where they came from, even though she tells the king she didn't. In these spies she saw her salvation. And she desperately wanted saving! Rahab knew the Hebrews were going to take the land and anyone opposing them would fall, most likely by the sword.
Rahab knew nothing about the Hebrew's God except the stories of His power. She didn't know of His covenant with His people. She didn't know of the Laws He had given. She didn't even know His name. Yet she trusted in His people to keep their word and in their God to see that they did. Her appeal and their promise ALL referenced God. He was the cementing force in their bargain.
God knew Rahab too. He knew her before the spies came to her. I have no doubt that He directed their path to her doorstep. He put it in her heart to protect them. He encouraged her to make the proposal she did that saved both her and her family.
Nothing Rahab did was hidden from Him. He knew how she lived. He knew her heart's condition. He knew what she did with her body. And He loved her anyway.
She couldn't be part of His family though staying where she was. She had to come out from that place and move into the role He created for her. She had to desire this change herself. He didn't drag her out kicking and screaming. He offered His hand to her in the form of the two spies and she reached out and took that hand with both of hers. She held on for dear life to the promise. I have no doubt that the scarlet cord was put in her window the same day the men left. She wasn't going to take a chance on missing out on the life she was being offered.
I wonder if her family was as eager to accept that offer. Did she have to convince them to come and stay with her? Did it take several attempts? Did they tire of waiting? Did any of them refuse? We don't see them later on in scripture.
We DO see Rahab. She is in Jesus' family line. She is the mother of Boaz who marries Ruth. Rahab's old life isn't even mentioned any more, only her contribution to Jesus' line. God gave her a new life and a new family in the bargain.
I was just thinking about that scarlet (red) cord. I wonder if it played a part in Rahab's wedding. Did they engage in some form of a "hand fasting" ceremony? I would have if it were me. Then again, maybe she wanted to forget that portion of her life.
One last thought. Did you notice the color of the cord matched the color of blood? Jesus' blood is what saves us. Rahab's scarlet cord was her link to salvation.
Father God, thank You for reaching out to me before I knew You. Thank You for the story of Rahab that shows none of us is beyond Your reach and too 'dirty' to be used by You. We aren't told exactly who Salmon was but he must have been an extraordinary man. One made especially for Rahab. One who would see her as worthy and not damaged goods.
Thank You for my husband who sees me as worthy. He doesn't look at my 'scars' or faults. He sees me with love and worthy of love.
If you enjoy biblical fiction check out Rahab's story in The Crimson Cord by Eileen Smith.