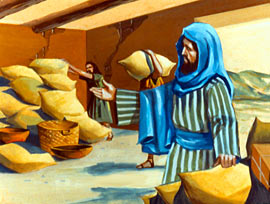 Moses goes into greater detail about how to offer the yearly tithe to the Lord. He gives scripts for both the regular first and second yearly tithe and the third year tithe.
There is a difference in how the tithe is offered and who is to receive it on a three year rotation cycle. We saw this earlier but it bears repeating.
In years one and two each person is to bring their tithe to the Temple; the place where God chooses for His name to dwell. There they partake of what they brought. Some of it goes to the Levites at the Temple but the majority of it is consumed by the household that brought it.
In the third year each person brings their tithe to the storehouse in the town nearest them. This is then set aside to be given to the Levites in that town, the widow, the orphan, and the sojourner; any who are in need. In this third year the one who brings the tithe isn't to partake of any of it.
The words that Moses gives the people to recite change with the third year tithe too but I believe they cover all the years. The promise first is that none of the tithe was held back on this third year. The previous two years the family got to enjoy the tithe themselves. But this year they have to give it all away. A dishonest person might try to hold back some for themselves to enjoy. "How would God know? It's just a little bit." Trust me. He KNOWS.
They are also promising that they have obeyed his commandments and not forgotten them. Their release of this third year tithe in full is part of those commandments. So they are doubly promising that they are doing as He instructed with this tithe.
The next portion of their promise I believe applies to their previous two years tithes. "I have not eaten of the tithe while I was mourning, or removed any of it while I was unclean, or offered any of it to the dead" (verse 14a). Because the one bringing the tithe this third year couldn't partake of any of it he would have to be referring to how he handled what he was allowed to keep the previous years. He is in essence saying to God that he has observed all His commands for these past three years so please bless the next cycle for him.
The first two years the man rejoiced and worshiped before the Lord while partaking of his tithe. He didn't ask God to bless his yield. It was a time of celebration and not a time of petition. He was not to stress over what the next years would bring but to rest in the assurance that God would care for him.
God has a time for us to rest in assurance that He has all things in control and He has a time for us to present our petitions to Him. I have personally felt His Holy Spirit urging me to pray fervently for something. And I have also experienced His Holy Spirit calming me and telling me to just be patient and wait. He knows my needs even before I do. I can trust Him with them.
I have found too many times that when I stick my oars in the water and try and steer my life that I get in trouble. Sometimes God makes good come out of the trouble and sometimes I just wind up with a mess to clean up. But when I wait on Him I am NEVER disappointed. I may be frustrated because I think it's taking too long though. But He is never too late, He is never too early. He is ALWAYS right on time. In His time!
Thank You Father for helping me to know when to press in and when to wait quietly. I wish I was better at listening to these instructions ALL the time. I know I have missed the mark on more than a few occasions. Thank You for rescuing me from my mistakes and using many of them as lessons along the way. Keep speaking Holy Spirit. I want to follow where You lead.