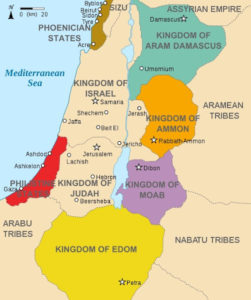 The battle Joab has been waging is nearing its end. The Ammonite city of Rabbah is close to falling. If David wants any credit he has to help in taking it.
We first heard of the city or Rabbah when Joab led Israel off to war and David stayed home. This city was the place of Uriah's murder. And now it is finally going to fall.
The timing of this event isn't clear. I highly doubt it took more than two years with the army in place to take the city. I have a feeling it came about between the death of Uriah and the birth of David's first child with Bathsheba but we honestly don't know.
The Ammonites had turned against David. They used to be friendly towards one another but that ended when they abused David's men who were sent to bring condolences to the new king on the passing of his father. They even hired Syria to help them defeat Israel. Syria was so badly beaten that they pulled away from the Ammonites entirely.
Apparently David wasn't satisfied with just defeating them in battle when they came at him. His intent was to utterly conquer them. That's why Joab is besieging their royal city. We aren't told the tactics Joab used or the number of men lost on either side but Joab sees victory within his grasp.
This story reminds me of the story of The Little Red Hen. She found some grains of wheat in the barnyard. She made a long range plan that had many steps to take before it was accomplished. She asked for help at each step and no one rose to the task. When the reward was realized, everyone wanted to share in it. But they were denied. They put no work in so they got no reward.
Joab tells David that if he doesn't come out and help in the final push Joab would take the city as his own. No work, no reward.
David rises to the task and brings the rest of the army with him. We are not told how many stayed home but there must have been more than a few or we would have been told that HE joined them instead of being told he brought "all the people" (verse 29b) to help Joab take the city.
I wonder if Joab needed their help or if it was simply a way for David to receive the recognition. Would Joab have put the crown on his own head if David had stayed home? Joab had something on the king; his orders to have Uriah killed. Did he already consider himself a little 'higher' than before? With his veiled threat it sounds to me like he might have.
What did David do when he arrived? Did he take command away from Joab or did he let him still lead? Did he change he battle plan or trust what Joab had already laid out?
And was Joab still loyal to David? Did Joab still respect David?
Whatever their relationship, they worked together well enough to accomplish taking the Ammonite's royal city and enslaving the people. This time the people weren't put to death. I'm more than happy to see that! I don't condone slavery but I also don't condone outright murder. I wish there were a third option for dealing with their enemies. Deportation wouldn't have been a viable long term solution as they could easily regroup and come back at Israel again. I'm looking forward to the time where there are no wars or enemies. But I'm getting off topic.
When the city finally falls, David is right there to take the glory. David took the crown off the king's head and placed it on his own. David brought out the massive amount of spoils. Ok, so he probably didn't carry them out himself but those under his direction did. David also decided what happened to the inhabitants who survived the battle. His name was all over this conquest. This was the end of the Ammonite king who disrespected David and Israel. Was this the end of the Ammonite people too?
I'm curious as to what became of the city and its lands. Did the Israelites move in? Which tribe had that territory as their inheritance? I can't see it standing idle.
As you can probably tell, this story didn't grab me like the last one did. Maybe because it is a tale of war. Maybe because it leaves me with too many unanswered questions. What I do know from this story is that the Ammonite sin against Israel didn't go unpunished. This city was well fortified and defended by skilled warriors, yet it fell to Israel. God gave His people favor in battle. No matter how many times David strapped on a sword he came away the victor. God fights for His people! Then and now.
The fight now is on an individual scale for most of us. He has certainly given me favor in MANY 'battles' that I have encountered. I'm praying for favor in one area right now. I know I got myself into the mess but I'm praying He helps get me out of it without too much 'damage'. We will see what lessons I take from this one. No matter the outcome though, I trust it is the perfect solution for my life. I trust He knows what I need.
Father God, You know my heart. You know how stories of war make me cringe. But I also know they are part of the path You laid down. Help me learn what I need from these stories and NOT glorify the carnage of it. Thank You for protecting Your people. Please protect me in my struggles. Lead me in Your paths. Put 'bumpers' in the way if You need to to keep me going the right way! Thank You for that visual. I needed a laugh.