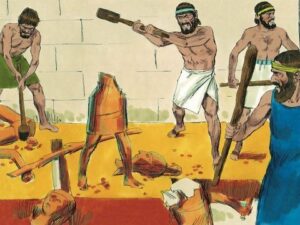 Asa's son Jehoshaphat takes the throne of Judah next. Jehoshaphat was another godly king who "walked in the earlier ways of his father David" (verse 3b).
I wanted to know if Jehoshaphat was a good king or a bad king. There were so many that we went through that I wasn't sure. I read ahead and found out two things. SPOILER ALERT! 1) He made mistakes; 2) He was confronted and; 3) He LOVED the Lord with all his heart.
We will see those mistakes and recoveries later on. For today we see his beginnings. Jehoshaphat starts off, not by going to war against Israel but by strengthening Judah against any attack, especially Israel. He stationed troops in all the fortified cities throughout the land, even in the cities his father took from the territory of Ephraim. He built up the storehouses and prepared Judah's forces for battle.
Jehoshaphat was well liked by all those around him. Even the hated Philistines brought him tribute. I'm CERTAIN this was God's doing. Jehoshaphat had more troops than were listed for the kingdom of Judah ever before but it was God's favor on him that made the difference. And that favor was a result of Jehoshaphat's heart towards God. "His heart was courageous in the ways of the Lord" (verse 6a). He even took down the high places and the Asherim from Judah.
If you remember our stories of Asa, he broke down the idols in his early years. What I figure is that when he got called on the carpet by God and turned his back on Him, Asa allowed the detestable practices to creep back in. Jehoshaphat dealt with these issues.
So let's get back to the military might of Jehoshaphat. The number of military men was not the only thing that gave his military good standing. The fact that Jehoshaphat organized the military and stationed them where they would do the most was just as important. Jehoshaphat didn't rule from a central location and not care for those around him. He stationed troops in garrisons throughout the land, as I said earlier. His troop number for just Jerusalem was over a million strong! And they were battle ready men, armed with bow and shield. This is not even counting all the troops who were stationed in the fortified cities.
THIS was the kicker for Jehoshaphat's military prowess; "And the fear of the Lord fell upon all the kingdoms of the lands that were around Judah, and they made no war against Jehoshaphat" (verse 10). Jehoshaphat had peace because of God's promise to Asa; that those who would seek Him would find rest.
Father God, it is awesome to see Your faithfulness! Jehoshaphat KNEW he could take You at Your word. It didn't have to be spoken directly to him for him to KNOW that You would STILL honor it. You STILL honor it today! I'm glad it isn't all tied into my every act though. I try to live like You have called me to but I OFTEN fall short. But I KNOW You still love me and will watch over my life. You NEVER leave me!