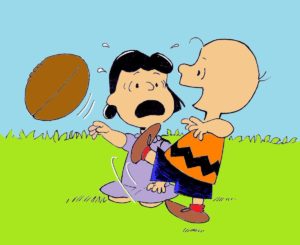 Saul decides to make David his son-in-law. Things do NOT go smoothly. But what Saul means to bind David turns out for good instead.
According to Hebrew tradition, a boy becomes a man as soon as he
enters puberty. This doesn't mean he is fully mature but is eligible for marriage. He isn't old enough to go to war until he is 20. David fell closer to the 20 mark than the 13 (average age of puberty) one. He has probably slipped over the 20 mark while in Saul's service since he was put in the position of a full time soldier, including being made captain of a thousand.
Saul's scheme to make David a 'casualty of war' was falling flat. Everything David put his hand to succeeded. Saul was terrified that David was going to take the kingdom from him. He didn't trust David. So he decided to bind David to his house by making him his son-in-law. Surely this would keep David faithful to him.
Getting down to brass tacks, David had won the hand of Saul's daughter when he killed Goliath. It was one of the things that were offered to anyone who would face Goliath. David did so and therefore should have received this reward. Yet that didn't happen, at least not right away.
David counted marriage of one of the king's daughters as an honor he was not worthy of. This threw Saul's plans off. I don't believe he really thought David worthy of his daughters either but by having him earn that right would put David's life right where Saul wanted it; in grave danger. Saul could dangle his daughters before David's face like a carrot in front of a horse.
Have you ever seen Charlie Brown and Lucy with the football? Lucy promises Charlie Brown she will hold the football for him to kick. Charlie Brown is always skeptical because of his past with Lucy but she convinces him every time that she has changed. And EVERY TIME Charlie Brown falls for it, commits himself fully to the task, and winds up flat on his back because Lucy did what Lucy always does; break her promise. Saul reminds me of Lucy.
Saul pulls his offer of marriage to his daughter back twice before he has no choice but to follow through. In the first offer (Goliath issue) Saul might have been willing to go through with a marriage until that 'song' came into the picture. That was the thing that drove the first wedge between Saul and David. David was getting bigger billing than Saul was.
The second offer of his eldest daughter's hand was designed to make David zealous in battle. "I will give her to you as a wife. Only be valiant for me and fight the Lord's battles" (verse17b). Saul figured David would die before he could make it to the altar. But that didn't happen. Saul snatched the 'football' away and gave it to another. Saul couldn't wait forever with his daughters. He couldn't dangle her out as a prize to keep David on the hook indefinitely. Merab wanted a life of her own. I'm sure David was probably disappointed but he didn't fight this because he didn't feel worthy to be the king's son-in-law to begin with.
The third time Saul offers one of his daughters he does so with a closed ended contract. I don't know if this was Saul's idea, David's idea or God's plan. Saul still wasn't expecting David to actually become his son-in-law. He first had to convince David that he had a shot at the title. He did this through back channels. He couldn't come right out and do it himself least his plans be discovered. He had someone else do this task for him. Once Saul knew for certain that David was interested in the offer Saul set the bar so high NO NOE should be able to meet. He set a task and a time line that should have made David reckless if he even dared trying at all. This task would surely lead to David's death or his disgrace when he couldn't fulfill it. 'Lucy lost this one!'
David not only completed the task but doubled what was required. God proved his favor with David time and time again. No matter what task Saul assigned him, David rose to it and exceeded all expectations. Even in the task of marriage with Saul's daughter Michal. She loved David and would intervene to save him from her father, but that's another story.
David's story shows us how, no matter what the enemy of our soul tries to do, when God is on your side you will have victory. David did NOT have an easy life! He struggled every day. I have no doubt he sustained injuries in battle. He was cheated. He was misjudged. He was on the run for years. Yet he never gave up and he never gave in to his circumstances. He trusted in God to make everything right.
God does NOT behave like Lucy. When He makes a promise, you can be CERTAIN He will keep that promise. He will see you through whatever life throws at you because He loves you and wants to see you succeed. He will NOT iron out all the wrinkles in front of you but he will hold your hand as you step over or walk on them.
Father God, thank You that You 'have my back.' I can trust YOU to work things out in my life. I KNOW it won't always be easy but the roads we walk together will be worth it in the end. They will lead me to where You want me to be.
Trouble in life is NOT as symptom of absence of faith but an opportunity to stretch what You have already given me.
Thank You for the opportunities to grow. Thank You that You have everything in Your hands and I can trust You with my future.